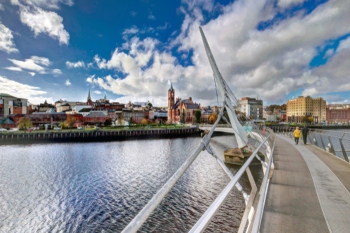 The UK Government is set to sign a £250m investment agreement with local partners in Northern Ireland to boost the economic potential of the region.
Secretary of state Brandon Lewis, alongside Northern Ireland executive ministers, and local partners, will sign the Heads of Terms for the Derry/Londonderry and Strabane City Deal later today.
The UK Government is investing £105m in capital over 15 years through this economic package, which will be matched by the Northern Ireland Executive.
Supplemented by up to £40m in private sector and local council contributions, the deal provides a total investment for the region of up to £250m.
'I am absolutely delighted to sign the Heads of Terms for the Derry/Londonderry and Strabane City Deal,' said Mr Lewis.
'The UK Government has committed £105m of capital funding to support and encourage economic development across the region, creating jobs, boosting opportunity and encouraging further inward investment.
'Today's announcement is part of the UK Government's commitment to developing and delivering a comprehensive and ambitious set of City Deals across Northern Ireland and delivering a stronger economy that works for everyone.'
The deal aims at delivering 10 major projects, with a focus on innovation, digital and health projects alongside renewal and regeneration initiatives.
The proposed projects have the potential to deliver an additional 7,000 jobs, increase GVA by £210m per annum, drive growth in output and wages and provide a population boost.
Speaking on behalf of the City Deal partners, the mayor of Derry City and Strabane District Council, Brian Tierney, said: 'The signing of the Heads of Terms marks the single largest investment by the Government to our region and is a significant step forward in our City Deal journey.
'A funding package of this scale and magnitude will be felt not only in the Derry City and Strabane District Council area, but across the wider North West region and beyond, and will deliver a stronger, more resilient and regionally balanced economy.'
The minister for Regional Growth and Local Government, Luke Hall MP, commented: 'This is a transformative Deal for the Derry/Londonderry City and Strabane region and provides an opportunity to deliver real change for people in Northern Ireland.
'This Deal will bolster innovation, productivity and prosperity across the region, and provide business and communities with the opportunities they need to thrive.'
Northern Ireland Local Government Association chief executive, Derek McCallan, said: 'Today's announcement is a much needed boost for the North West region. City and Growth Deals in Northern Ireland must be accelerated and be locally led. Over £250m will be allocated for key innovation and research projects, tourism, and regeneration, which means new, highly-skilled jobs being created.
'Derry City and Strabane District Council is proud and capable - at the forefront of this project - and we look forward to other City and Growth Deals rolling out regionally across NI.'