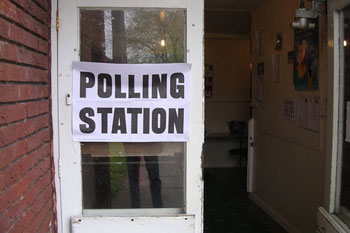 On 3 May voters will head for the polling stations in the first test of public opinion since last year's general election. And with the two major parties further apart politically than for some decades the battle looks likely to be one of the liveliest in recent times.
At its core is a fundamental question over the provision of public services, many provided by local authorities. Labour is highlighting the effects of cuts on schools, libraries and social services, while the Conservatives stress the need to provide value for money and keep council taxes down.
There are no elections in Scotland, Wales or Northern Ireland, but in England about 150 councils are up for grabs in a mixture of metropolitan, unitary, borough and district councils. In some, all the seats are up for election while in others a third are being contested.
Labour will be hoping to improve on its results in the last local elections when it gained control of six councils and added more than 300 councillors to its ranks, with a clear message about the effects of the Government's austerity strategy.
The Conservatives, on the other hand, will hope voters focus on local issues and be persuaded that lower council taxes are the prime objective.
The Liberal Democrats, much reduced from happier times, know they have a long way to go to regain their appeal by presenting a distinctive message, while the Green Party will be hoping to hold on to their existing presence given the squeeze by a resurgent Labour Party. Ukip appears unlikely to make a comeback given its internal troubles and the fact that their main battle - for Brexit - has been won.
Whatever the outcome, the council elections will be seen as a barometer of the parties' likely fortunes in the next general election.
Launching Labour's local election campaign in Manchester, its leader Jeremy Corbyn unveiled his vision of 'public enterprise and practical municipal socialism'.
The Government's austerity strategy and cuts in services took centre stage: schools, hospitals, policing, libraries and youth centres had faced budget reductions or closures under the Tories, he said, while tax breaks were handed out to companies and high earners.
'On May 3rd there's no need to stand by, no need to accept you have to pay more and get less,' Corbyn told his audience. 'Use your vote to send the message that enough is enough'.
The Conservatives, understandably, want to keep the focus local. 'People can use their vote to decide how your local services are run, and how much you pay for them,' Conservative Central Office told LocalGov. 'This includes things like rubbish collection, street cleaning and road repairs.'
They are also stressing value for money for council tax payers: 'Conservative councillors deliver for their communities,' the spokesperson said. 'They provide high quality local services – while keeping your council tax low, on average over £100 lower than other parties.'
Inevitably issues that local authorities have no control over will be raised on the doorstep as the parties drum up support - Corbyn's leadership, Brexit, immigration, the cost of living and perhaps foreign policy including Syria and the Middle East.
On the crisis in social care and the NHS in particular, many voters may be keen to register their concerns, even though these are issues that can only be addressed by the national government.
As the party of opposition, Labour holds an obvious advantage in being able to make promises for major new injections of cash into hard-pressed services. In response the Conservatives can only question where the money will come from and stress their own achievements in power.
London will be a particularly lively battleground with a number of Conservative-controlled councils at risk, while a worry for Labour is that they may suffer in several areas with large Jewish populations following the adverse publicity over anti-semitism.
As the results are announced through the night of May 3 and the following day, it should become clear how voters have answered the fundamental question: whether they want to continue with the policies laid down over the last several years by the Conservatives at Westminster or take their chance with the promise of major public investment in local services laid out by Jeremy Corbyn's Labour.