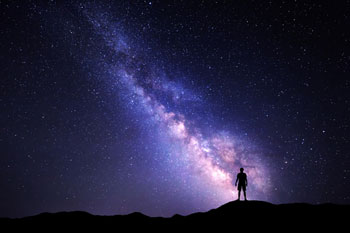 Only 22% of England is untouched by light pollution, according to a new interactive satellite map.
The Campaign to Protect Rural England (CPRE), along with consultants LUC, have released the map in order to highlight the extent of light pollution in the UK.
It revealed 19 of the brightest 20 skies are above London boroughs, while Manchester is the only non-London district in the top 20.
The images, which were captured at 1:30am, also show that as a region, London is at least nine times brighter than any other except the North West.
More than half (53%) of our darkest skies are over National Parks and Areas of Outstanding Natural Beauty.
Local councils, according to CPRE, were estimated to spend £613m on street lighting in 2014-15, and the lights can account for between 15-30% of a council's carbon emissions.
CPRE recommends local authorities develop policies in local plans to control light pollution, which ensure that existing dark skies are protected and new developments do not increase local light pollution.
Emma Marrington, senior rural policy campaigner at CPRE, said: 'Our view of the stars is obscured by artificial light. Many children in urban areas may not have seen the Milky Way, our own galaxy, due to the veil of light that spreads across their night skies.
'Councils can reduce light levels through better planning and with investment in the right street lighting that is used only where and when it is needed.'