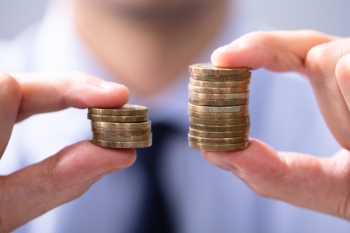 Incomes in London and the south-east have increased six times faster than in 'red wall' regions since the general election, new research reveals.
A new study by the New Economics Foundation has found that inequality between regions and families has increased over the last two years in large part because of the Government's response to the pandemic.
The think tank found that in London incomes have increased by more than £600 a year (1.3%) and in the south-east they have risen by £550 (1.1%).
However, incomes in the north-east have risen by less than £20 (or 0.1%) a year. Incomes have gone up by only £80 (0.2%) in the north-west and Merseyside and by £90 (0.3%) in Yorkshire and the Humber.
The increase in regional inequality is also reflected in a rise in inequality between families. The top 5% of families have gotten richer by £3,300 a year, while the poorest 50% have had their incomes squeezed by £110.
According to the New Economics Foundation's calculations, there are 300,000 more families in poverty in December 2021 compared with 2019.
The think tank argues that the sharp increase in inequality has been driven by the Government's pandemic response, which has left poorer families exposed to global price rises and inflation. Consecutive failures to lock down in time led to infections and deaths rising faster and higher, necessitating longer and stricter lockdowns further down the line.
'These results show that the Government's handling of the pandemic has led to the richest families and regions getting richer, while the poorest families are even poorer,' said Alfie Stirling, director of research and chief economist at New Economics Foundation.
'With prices expected to continue increasing, the threat of a rise in interest rates and ongoing effects of Brexit, things could get a lot tougher for families that have already suffered most.
'In the long run, any agenda to tackle these issues needs to grasp the fundamental drivers of regional inequalities for places, people, and industry. But in the short term, more should be done to help families through the social security system.'
Responding to the New Economics Foundation's study, a spokesperson for the Department for Levelling Up, Housing & Communities (DLUHC): 'This Government's central mission is to level up every part of the United Kingdom by spreading opportunity, empowering local leaders and improving public services.
'In addition to the £4.8bn Levelling Up Fund, we're providing record investment in infrastructure worth over £96bn, £12bn in affordable housing and a £2.6bn Shared Prosperity Fund to help rebalance opportunity across the UK.
'We are widening access to new jobs – 56,000 just this year – and we're building on that through a £200m boost to communities to help build skills. The forthcoming Levelling Up White Paper will set out how we will further improve opportunity and livelihoods across the country as we recover from the pandemic.'