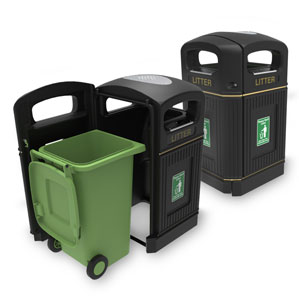 The new Square Heritage 240L litterbin from Leafield Environmental is designed to reduce the number of individual litter units required or decrease the frequency with which bins need emptying. It houses a 240 litre wheelie bin which makes emptying an easy proposition while reducing the risk of injury by manual handling and speeding up the overall collection process.
Made from 100% recycled, UV stabilised medium density polyethylene (MDPE), the Square Heritage 240L has a double-skin wall structure for ultimate rigidity and durability while the lack of a base floor makes locating and removing the wheelie bin an easier proposition. A moulded-in ground fixing facility enhances stability while the ribbed exterior discourages flyposting and graffiti.
The large front 'lift and drop' door provides safe and easy access to a standard 240litre wheelie bin. It has 'slam shut' multi-point locking mechanism, a heavy duty, automotive grade, corrosion free lock and a concealed hinge with a flush finish.
The curved hood prevents waste being left on the top of the bin and discourages climbing. It incorporates a metal stubber plate and the underside provides the housing for an optional fire extinguisher.
Four large, moulded through apertures ensure there are no rough edges to cause injury to users. A separate stubber plate can be affixed to each aperture if required. Each face of the bin has a facility for attaching posters and a separate area for litter/dog waste signage and to enhance the overall appearance, optional decorative gold banding is available.
For more information contact 01225 816541 or visit www.leafieldrecycle.com