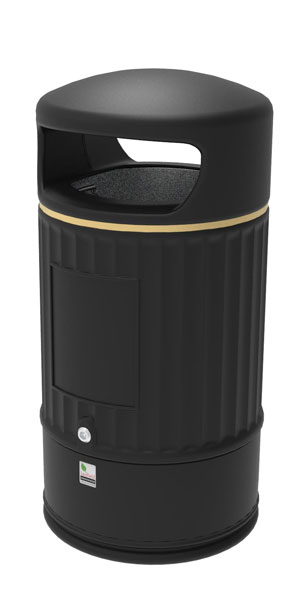 Leafield Environmental is extending its Envirobin range with the launch of the Mini Classic, a new, compact sized, external litter bin that is both stylish and economical.
Standing 950mm high, with a small diameter of 456mm, the Mini Classic has a respectable capacity of 70 litres when used with a plastic liner although a galvanised steel liner is also available with a 60 lire capacity.
Rotationally moulded from resilient, corrosion resistant, UV stabilised MDPE, the Mini Classic has smooth edges and large radii to minimise dirt traps and a dimpled surface to discourage fly posting.
Available in a range of standard colours and from recycled materials, subject to availability, the bin boasts a gold or silver band of distinction around the circumference and front and rear label panels for promotional purposes.
Stylish, slim-line and compact, the Mini Classic enjoys a similar range of options to its big brother the Heritage Classic. Ground fixing kit, ashtray, stubber plate, fire extinguisher and locked access are all available on demand.
Where space is at a premium yet litter collection is essential, at a cost of £150.00 you should consider the new Mini Classic Bin from Leafield Environmental.
For more information contact 01225 816541, E-mail: comms@leafield-environmental.comcomms@leafield-environmental.com or visit www.leafieldrecycle.com