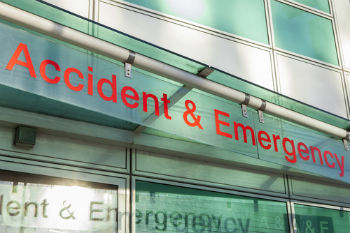 A lack of community services to support carers is 'piling pressure' on NHS emergency care, according to a carers charity.
A new report by Carers UK - titled Pressure Points - found unpaid carers are being forced to take their loved ones to A&E because of a lack of appropriate support in the community.
One in five carers told the charity they had no option but to take their relative to an emergency room because it was impossible to see a district nurse or a GP out of hours, and one in 10 said they didn't know where else to go.
The majority of carers who report having taken someone they are caring for to A&E in the past 12 months believe their admission could have been prevented with more (55%) or higher quality support (50%) for the patient, more local support for them as a carer (32%), or access to a district nurse (25%).
Carers UK highlighted the fact that a reduction in the provision of local care is contributing to a rise in A&E visits and hospital admissions. In the first quarter of 2016, they reported, there were over 500,000 more visits to A&E than during the same period last year.
This increased demand on the NHS is forcing many people to be discharged from hospital too early, often without the right support in place at home and without proper consultation with their family.
Over half of carers (58%) said the person they care for had been discharged from hospital too early, with 12% saying their loved one had to be readmitted at a result.
A lack of community health and care support is also leading to many people having to stay in hospital for longer than necessary. The cost to the NHS of delays in discharging older patients is £820m a year.
'The majority of care provided in England is not by doctors, nurses or care workers, but by family and friends,' said Heléna Herklots, chief executive of Carers UK.
'These carers have told us that they aren't able access the support they need, when they need it, from community health and care services, so they are reluctantly having to turn to A&E.'
'What's more,' Ms Herklots continued, 'a lack of consultation, support and information at the point their loved one is discharged from hospital means that many families are taking on a caring role in a crisis and feel unprepared.
'This isn't sustainable and is leading to many people being readmitted to hospital shortly after they've been discharged, piling more pressure on an already stretched NHS.'
Responding to Pressure Points, vice chair of the Local Government Association's (LGA) community wellbeing board, Cllr Linda Thomas, said: 'Unpaid carers play an invaluable role that saves the economy an estimated £132bn a year. Without them, social care and the NHS would collapse.
'Supporting carers is fundamentally important to local government, and we fully backed the important changes brought in by the Care Act to improve the lives of carers, in particular the move to ensure that carers are recognised in law in the same way as those they care for.'
Cllr Thomas explained that a lack of funding for social care was preventing local authorities from being able to provide the local support necessary to help carers and their families.
'The continuing underfunding of adult social care by government has limited councils' ability to provide support to vulnerable people and their carers,' she said.
'Less than a third of councils say they are confident there is enough money to meet growing levels of need this year and beyond.'
'Getting people out of hospital more quickly and back living at home will only work properly if councils get enough resource throughout the whole year to fund adequate provision of care services,' she added.