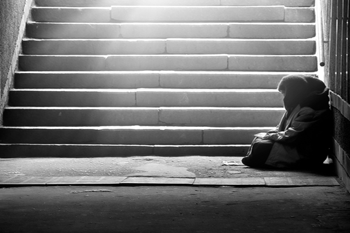 An estimated 26,000 single people are homeless on any given night in England due to a lack of affordable and accessible housing, according to new research.
Crisis, the national charity for homeless people, says many are trapped in a cycle of homelessness or stuck in temporary shelter for months or years on end.
It points to a shortage of social housing and 'sky-high' renting costs, but also says many homeless young people are hit by councils banning people from housing registers because they lack local connections or have a history of rent arrears or antisocial behaviour.
Crisis says the recently-announced Government social housing initiative will help some, but rules that shut out many homeless people must be tackled.
Its report, Moving On: Improving access for single homeless people in England, says their access to social housing has been declining each year and many on the lowest incomes find it difficult to get housing of any sort.
Jon Sparkes, chief executive at Crisis, said: 'As the supply of social housing in England has shrunk, and fewer new tenants get access to social rented housing, the effect on single homeless people has been devastating.
'To make matter worse, restricted eligibility for social housing is trapping more and more people in a cycle of homelessness that they have no route out of, and this just isn't right.'
For more on homelessness visit The MJ (£).