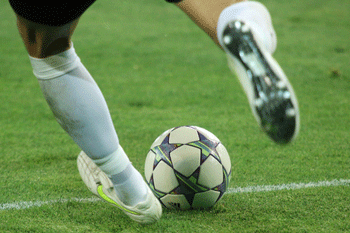 Labour has proposed a multi-million pound levy on sport betting and the Premier League to raise funds for community sport.
Harriet Harman MP today launched 'More Sport For All', a new policy consultation on how to encourage people of all ages into sport and physical activity.
Labour will now examine range of ideas including a proper levy on revenue from the Premier League, a new levy on sports betting to support community sport and re-introducing two hours of sport for every primary school child – a program axed by the Coalition Government.
The news comes after the Local Government Association called on the Football Association and Premier League to allocate more of the reported £3bn they make each year into local football schemes.
Ms Harman said: 'We were all proud to host the Olympics and Paralympic Games in London two years ago but instead of seeing increased participation, things have got worse especially amongst young people as a result of the government axing School Sports Partnerships.
'Our consultation looks at a number of ideas which aim to boost investment in community and grassroots sports by getting tough with the Premier League and betting companies, bringing back two hours of sport at schools a week and encouraging more people to take part – girls as well as boys.
'We need strong government leadership to create a long term innovative plan for sport and that is what this consultation seeks to do.'
Clive Efford MP, Labour's shadow minister for sport said: 'If we are going to get more people active then we have to empower the people who do most of the work in our communities to have more influence over how we plan, organise and deliver sport and physical education at local level.
'Increasing participation is not something that can be dictated from central government. We have to agree on a long term set of objectives and then all play our part in achieving them.'
Image: Iurii Osadchi / Shutterstock.com