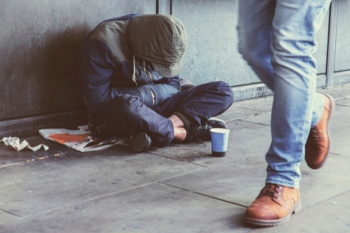 Ending homelessness is possible, but the Government needs to keep up funding or face a post-pandemic surge, an independent commission concluded.
The review chaired by former head of the civil service, Lord Bob Kerslake claimed the Government must maintain the level of funding that was available under Everyone In, the programme to get rough sleepers off the streets during the COVID-19 pandemic.
In cash terms, that means an extra £82m a year on top of previous spending commitments.
The interim report of the Kerslake Commission on Homelessness and Rough Sleeping, said the Government must capture the gains main from Everyone In by maintaining the funding, momentum and partnership working.
It said future funding for local authorities should be more flexible to tackle prevention and long-term support, and street homelessness should be treated as a public health and housing priority.
And it claimed the £20 uplift in universal credit should stay, while there should be more investment in initiatives like Housing First and wrap around support services.
Lord Kerslake said: 'If we fail to learn the lessons of 'Everyone In', all the signs from the Commission's work are that the situation will get worse not better, and homelessness and rough sleeping will increase.
'That would be an enormous lost opportunity for the Government to deliver on its rough sleeping commitment, and a personal tragedy for those affected.
'We are at a pivotal moment. I fervently hope that the Government does the right thing and takes forward the recommendations in this interim report.'
London Councils' housing spokesperson – and member of the commission – Cllr Darren Rodwell, praised Everyone In and said: 'London boroughs want this work to continue and to do everything we can to help end rough sleeping altogether.
'We need longer-term commitments – especially in terms of funding for local services. Giving councils sufficient resources is essential for reducing rough sleeping on a permanent basis.'
Chairman of the Local Government Association, Cllr James Jamieson, said: 'It is now vital that we ensure this is not a one-off emergency response, and that we build on this and embrace the opportunity to make this the new normal and end rough sleeping altogether.
'We want to work closely with government on a cross-departmental homelessness prevention strategy, which sees councils supported with long-term funding to prevent homelessness from happening in the first place, with the changes to welfare benefits introduced following the coronavirus outbreak maintained for as long as they are needed.'