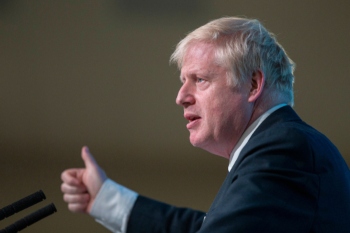 Prime Minister Boris Johnson called for local leaders to take their devolution plans to him in a keynote speech from the West Midlands this morning.
The speech, designed to reassure the Conservative heartlands that levelling up the north did not mean levelling down the south, cantered through the Government's plans for transport, infrastructure, education, skills and devolution.
Mr Johnson claimed the Government was 'starting to see the results of devolution' with the metro mayors, but added: 'We need this levelling up to go much further and faster'.
He claimed there was no 'cookie cutter division of regions' that could divide the country up neatly, but there was a chance to 'encourage local leadership' now the 'loony left' ideology of the past has gone.
Mr Johnson vowed to devolve to directly-elected mayors for counties and said he would consider bespoke devolution deals for 'specific purposes'.
He continued: 'My offer to you is … come and see us … with your vision to level up.
'We will give you the tools to change your area for the better.'
Mr Johnson vowed to tackle health inequality and increase the life chances of children from more deprived areas, claiming it was not morally right to be 'squandering vast reserves of human capital'.
He added: 'We don't want to level down.
'We don't want to decapitate the tall poppies.'
Instead, Mr Johnson suggested the policy was about increasing London's economy on the national stage at the same time as bringing the rest of the UK's economy up and preventing the capital from 'overheating'.
He said: 'This is not a jam spreading operation … it is win, win for the whole United Kingdom.'
Mr Johnson's comments come after a shift away from the Conservatives in Tory heartlands in the local elections and recent Chesham and Amersham by-election despite gains in Red Wall constituencies.
The County Councils' Network devolution spokesperson, Martin Hill, called for members to get the same devolved powers as their urban neighbours.
He added: 'Local areas should be able to decide the most appropriate devolution arrangements for counties and ministers must deliver a flexible approach through the forthcoming Levelling up White Paper.
Photo: ComposedPix / Shutterstock.com