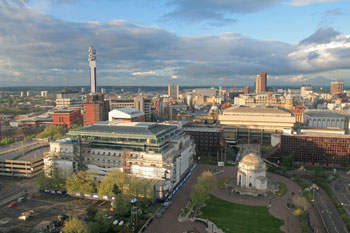 The team brought in to turn Birmingham City Council around has backtracked on its plans to withdraw.
Last week communities secretary Sajid Javid called for an urgent update on progress in Birmingham following the chaos surrounding the bin strikes, which prompted council leader John Clancy to stand down.
Cllr Clancy's resignation came just a month after the Birmingham Independent Improvement Panel reported 'continued political stability' and said 'progress has been and continues to be made'.
Panel chairman John Crabtree wrote to Mr Javid: 'The leader of the council is demonstrating strong political leadership and is working constructively with the interim chief executive.
'The council currently has in place highly experienced senior managers with impressive track records and a political leadership which has made clear its commitment to decisive and timely action to confront these risks.'
In the panel's latest letter, Mr Crabtree acknowledges the previous recommendation to suspend its current operation but added: 'Following the events of recent weeks, the council now faces a period of significant transition.'
After a meeting between the panel, acting leader Cllr Ian Ward and interim chief executive Stella Manzie, Mr Crabtree wrote: 'They agree it will be helpful for the improvement panel to remain in place, providing advice and support to the council until it can demonstrate that the changes in culture and governance still required are truly embedded.'
Cllr Ward said: 'I will continue to work with the improvement panel to achieve the best possible outcomes for Birmingham and its citizens. I look forward to further detailed discussions regarding the next stages of our improvement journey.'