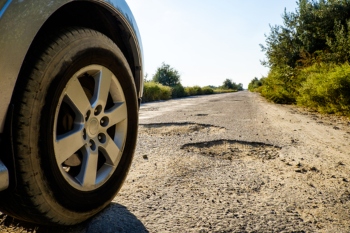 Ministers are set to announce an extra £200m for local road maintenance, representing around half of the annual cut to funding that was put in place since for each of the last four years of the current parliament.
The Daily Mail said chancellor Jeremy Hunt will announce the cash in this week's Budget and that it will be released to councils in England in the coming weeks.
The paper did not clarify the period that the new money covers but said it represents a boost of almost a fifth to annual funds for highway maintenance, and will be in addition to the £1.125bn being spent annually between 2020 and 2025.
On this basis, the cash would appear to be a one-off for the 2023-24 financial year, with no guarantee of extra funding in 2024-25.
Local government organisations such as the County Councils Network (CCN) have said that central government capital funding for local road maintenance 2021-22, represented a cut of £398m compared to the previous year.
Funding was then frozen at the same level for the current financial year and the next two.
The CCN pointed out last week that the cut came despite a pledge in the 2019 Conservative manifesto to spend an extra £500m on road improvements in each year of this parliament.
Transport secretary Mark Harper told the Daily Mail: 'Potholes are a blight on Britain's roads.
'This latest round of funding shows we are committed to supporting all road users – from motorists to cyclists and bus passengers – and making journeys smoother and safer for all.'
The RAC's head of roads policy, Nicholas Lyes, said: 'While welcome, another £200m is unlikely to make a big difference to the overall quality of our dilapidated local roads.'
A spokesperson for the Local Government Association said: 'We look forward to seeing the details of how this money will be allocated.'
This article was originally published by Transport Network.