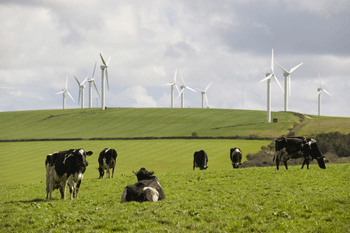 Around 250 planned wind farms are now unlikely to be built because of the early termination of subsidies, the Government has said.
New onshore wind farms will be excluded from the financial assistance scheme offered by central government from April next year.
While ministers have introduced a 'grace period' for projects that already have planning consent, energy secretary Amber Rudd said the decision would mean some 2,500 onshore wind turbines were now likely to be cancelled.
'We estimate that around 7.1 GW of onshore wind capacity proposed across the UK will not be eligible for the grace period and are therefore unlikely to go ahead as a result of announcement of the 18 June,' she told the Commons.
'That equates to around 250 projects totalling around 2500 turbines now unlikely to be built.'
There are currently thought to be around 490 operational onshore wind farms in the UK, comprising of 4,751 turbines.
Onshore wind made up around 5% of electricity generation last year and was supported by around £800m of subsidies.
Communities are set to have the final say over the positioning of new turbines under new planning rules.
'We have a responsibility to efficiently manage support schemes within the Levy Control Framework to ensure that we maintain public support for the action we are taking to bring down carbon emissions and combat climate change,' Rudd said.
'Government support is designed to help technologies stand on their own two feet, not to encourage a permanent reliance on subsidy.
'We must continue to take tough judgements about what new projects get subsidies.'