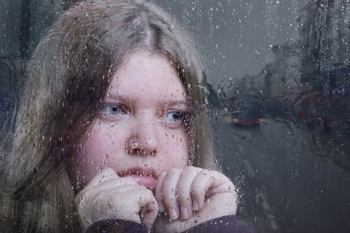 Children in London are growing up in 'uninhabitable' temporary accommodation due to years of Government-imposed austerity and the housing crisis, a human rights organisation has warned.
In a new study based on interviews with 75 people who have direct experience with temporary accommodation in the capital, Human Rights Watch (HRW) reported that there were people living with toxic mould, cold temperatures, and a lack of adequate space.
The human rights organisation warned that forcing people to live in these conditions constitutes a violation of the right to adequate housing and children's rights to an adequate standard of living.
The report, co-written with The Childhood Trust and entitled '"I Want Us to Live Like Humans Again": Families in Temporary Accommodation in London, UK,', argued that the reliance on substandard temporary accommodation was the result of Government cuts to local government funding which had forced councils to rely on short-term fixes to the homelessness crisis.
Between 2009-10 and 2018-19, local authorities experienced real term cuts of 37%.
The report also highlights the lack of social housing as one of the driving factors behind residents being left in substandard accommodation.
'The Government needs to urgently address this hidden aspect of the housing crisis by reducing reliance on temporary accommodation and tackling the issue of housing unfit for families to live in,' said Alex Firth, senior coordinator at HRW.
'If the Government is really committed to its agenda of "levelling up" every part of the UK, then giving families a safe and decent home to live in should be the foundation of its efforts.'
The number of families in temporary accommodation has increased 65% since 2011. As of October 2021, there were 42,290 families living in temporary accommodation in London. This represents 70% of all families in temporary accommodation.
Responding to the report, a spokesperson for the cross-party group London Councils said: 'London faces the most severe homelessness crisis in the country and the number of children in temporary accommodation in the capital has risen 60% over the past decade.
'Boroughs do their best to support and find suitable accommodation for homeless families, but London's extreme housing pressures and many years of reductions to council budgets have made this work harder and harder.
'Every child deserves a permanent home. The government needs to do much more to tackle family homelessness, including using the welfare system to help Londoners meet their housing costs and boosting funding for the affordable homes the capital urgently needs.'
A spokesperson for the Department for Levelling Up, Housing & Communities (DLUHC) responded that the Government was tackling the need for temporary accommodation by investing in homelessness prevention.
'All children deserve to live in a safe and decent home, and we're strengthening councils' enforcement powers to tackle overcrowding and reduce social housing waiting lists, which have fallen by 57% in London since 2010,' they said.
'More than 119,000 affordable homes have been delivered in the capital over the past 10 years, with a further £4bn allocated to London to deliver 35,000 homes over the next five years.
'We are driving down the need for temporary accommodation by preventing homelessness before it occurs, with over £2bn committed to tackle homelessness and rough sleeping over the next three years.'