The Greater Thames Valley region is going from strength to strength, not least through the realisation of a number of ambitious infrastructure projects that will significantly boost connectivity across the Greater Thames Valley. Crossrail's Elizabeth line will provide better connections from the West, South West and Thames Valley into London, connecting Reading and Heathrow – further opening up the region to international transport gateways. Great rail links, coupled with the motorway network and Solent's Southern Port gateway create a formidable infrastructure network.
But we can't relax and allow complacency. The US and Europe is looking increasingly attractive to companies wanting to tap into a global, mobile talent pool and position themselves in the best possible location for growth. We're entering challenging times and need to ensure that we are fighting-fit and doing everything we can to bolster our key sectors, particularly the tech and digital economy.
It would be foolish to underestimate the potential effect of Brexit on the health of our tech sector – where companies need access to the best talent in the world and are able to easily relocate to more open markets where talented employees are able to move about freely.
Enabling great start-ups and high growth scale up SMEs access to people with the right skills, developing our infrastructure and ensuring we have the digital connectivity in place to sustain a world-class technology and services economy is key.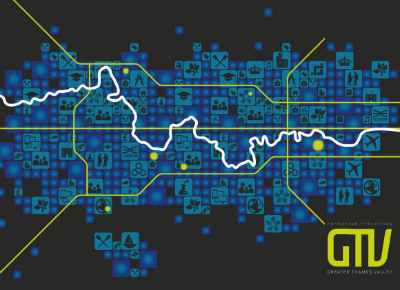 The Thames Valley has benefited from a long positive relationship with key international markets, particularly the USA. The Thames Valley office market already enjoys a strong profile in the US market, with 38% of current tenants coming from the US. It's important that this is appeal is widened to attract manufacturers and developers - alongside the back office functions of international companies, which currently make up the standard tenant profile.
Although I am encouraging a proactive approach, this shouldn't detract from the assets that we have in the region. The Greater Thames Valley benefits from outstanding advantages that make it highly attractive to global brands from every corner of the world. It is the largest technology cluster in Europe, and boasts a unique blend of established technology corporates, innovative start-ups and small and medium-sized enterprises.
The Greater Thames Valley's productivity levels are also outstanding, with Gross Value Added (GVA) a productivity measure, showing that Greater Thames Valley outputs dwarf that of regions with similar population sizes. In 2015/2016 GVA in the Greater Thames Valley hit £144,939m compared to the combined GVA figure for Greater Birmingham and Solihull and Greater Manchester of £99,176m.
Investment in new specialist office, laboratory and technical space, at locations like the Thames Valley Science Park and Harwell Science Park are key. While Enterprise Zone sites at Solent, Oxfordshire, Buckinghamshire and the Enterprise M3 area's multi-site Enterprise Zone at Basingstoke, Whitehill and Bordon and Chertsey are attracting innovative, high-tech, world-leading companies in areas including digital media, 5G and cyber security.
High-tech SMEs and established global brands are attracted by the fertile enterprise ecosystems across the region, which offer high-quality office space and facilities, coupled with easy access to a highly-skilled, educated workforce (over 1,268,300 people in the GTV are qualified to Level 4 or above) all within an innovative, collaborative environment.
As such, we welcome the Government's commitments to underwrite all research funding secured pre-Brexit. This positive news has a direct effect on the region, enabling key projects like the Thames Valley Science Park to proceed unaffected and helping to ensure the world-leading work being undertaken at locations like Oxford University, Harwell Science and Innovation Campus and Buckinghamshire's Pinewood Studios is not negatively affected.
Alongside the rail and infrastructure investment coming into the region, and the region's existing strengths including the establishment of the Solent as home of the UK Marine and Maritime sector offers, digital connectivity is also due for a significant overhaul. Neighbouring Greater Thames Valley LEPs are working collaboratively to align resources around the 5G Innovation Centre at the University of Surrey.
The creation of a 5G 'test bed' is a first step to encourage the roll out of 5G across the wider region. This would be a significant competitive advantage and markedly improve the region's attractiveness as an international investment destination. This kind of joined-up strategic approach is key to pushing forward game-changing projects that will boost the economic health of the wider region.
These elements are key parts of the wider puzzle which need to come together to ensure we're fit to function and thrive in a post-Brexit landscape. We're welcoming the opportunity to come together at MIPIMUK and showcase the greater region's fantastic multi-faceted offering, particularly the property assets that are enabling the development of a thriving knowledge economy in some of the fastest growing sectors.
We are also looking forward to exploring the planned infrastructure developments that will create a golden thread of connectivity running right across the region, maximising productivity and bringing the world even closer to our doorstep.
Tim Smith MBE is chief executive of the Thames Valley Berkshire Local Enterprise Partnership (LEP)
The LEPs which are collaborating at MIPIMUK to promote the region are Thames Valley Berkshire, Buckinghamshire Thames Valley, Enterprise M3, Oxfordshire and Solent. Basingstoke and Dean Borough Council, Heathrow Airport, Thames Valley Science Park and Castle View Retirement Village in Windsor are joining the LEPs at the property event.
The Greater Thames Valley delegation will be at MIPIMUK from October 19th to October 21st. For more information, visit www.ukpropertyforums.com