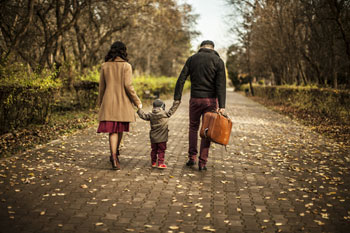 The latest government figures reveal that there are currently 4,140 children in England awaiting adoption, up 3% on last year.
With the closure of the national adoption register earlier this year, local authorities are facing increasing challenges to find families for some of the hardest to place children such as children over the age of five, those from BAME backgrounds, children with additional complex needs, such as a disability, and sibling groups.
National Adoption Week starts today and the focus of this year's campaign is to shine a light on those 'priority children' who wait the longest. There has never been a greater urgency for local authorities to access alternative means of family finding to prevent children awaiting adoption from languishing unnecessarily in the care system.
Coram's Adoption Activity Days, run in partnership with local authorities, are an opportunity for prospective adopters to meet and engage with children awaiting adoption in a friendly environment with plenty of fun activities such as arts and crafts, games and sports to see if there is a possible connection. Preparation, support and chemistry are the key to successful matching.
Many prospective adopters have told us that attending an Adoption Activity Day has encouraged them to consider children that they may not have considered on paper. Laura, who adopted her son after meeting him at an Adoption Activity Day, said: 'If you just read a child's paperwork, you don't really get a sense of who they are. For children with disabilities, it's easy to focus on the disability and not see the child.
Another adopter, David, echoed this sentiment and said: 'The days are such a great chance to get to meet the 'real' child behind the official reports and for you to think outside the box.' He added that the events are 'really opening up people minds and giving these children the chance to find a family and for people to see the children are actually 'children'!'
Adoption Activity Days are delivered by Coram's specialist team at accessible and child-friendly venues across England. A huge effort goes into preparing the social workers, foster carers, children and prospective adopters involved.
Mark, who met his son at an Adoption Activity Day, recalls: 'At the Activity Days, we quickly learned that all people involved were there to not only to support the possible match between adopters and children but as well to give advice, encouragement, cry with you, share experiences. We had as well the privilege to meet our son during one Activity Day and we can positively say that it made all the difference during the matching process.'
The activities at the events are designed to bring the children's personalities to life and to see how well they connect with prospective adopters.
Rachel and Chris, who adopted older siblings after meeting them at an Activity Day, said: 'It was great to be able to interact with them in different ways, to have a game of Connect 4 followed by some painting and drawing. This enabled us to learn more about the children's interests as well as to see what they were like in different environments.'
The Activity Days are also a chance for children to participate in their own family finding and give them a say in whether a potential match might be right for them. One adopter said about their children: 'They tell us often that they chose us and not the other way around. We are extremely happy that they are so positive about this and that they feel they had a huge say in where they would spend their future years.'
Local authority adoption managers have also provided very positive feedback on the events, as one manager describes the impact for one family: 'Adopters Chris and Marcus had seen Sam's profile and had felt a connection to him but had not felt confident enough at that stage to pursue an enquiry. However, the Adoption Activity Day gave them the opportunity to meet Sam, and connect to this excitable, fun-loving, sociable and spontaneous little boy, with so much to offer a family. We felt strongly that Chris and Marcus were the right family and Sam moved in three months later. He's now doing well and told us that his new family make him happy.'
Adoption Activity Days are a proven and established method of securing permanence where matches cannot be identified 'in house' and other, more traditional means of profiling have been unsuccessful. Over the last year, 482 children met 314 potential adopters, resulting in 118 matches from the 20 Adoption Activity Days that took place.
One Regional Adoption Agency noted that an Activity Day 'was more successful than any matching' they had done before and were progressing with matches for 30% of children who attended.
Not only is this about the emotional cost to waiting children but every match that is made as a result of an Activity Day can save local authorities the financial resources it allocates to temporary foster care placements, which often exceed £30,000 per child, per year.
Coram is able to offer expert leadership and delivery of regional Adoption Activity Days for just £300 per child: a significant reduction on places purchased on an individual basis.
For many children attending Adoption Activity Days, it is often their last chance to find a loving, permanent home and the experience can be life changing. Laura, who first met her son at an activity day, spoke of the instant connection she felt: 'I just looked at him and thought 'he's my son'. Our paths crossed that day and I have the Activity Day to thank for that.'
Find out more about Coram Adoption Activity Days.
Sally Beaumont is Activity Days service manager at Coram