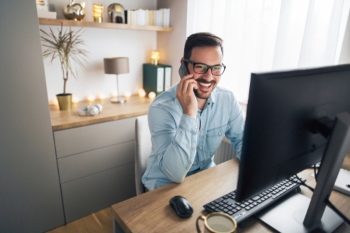 The pandemic forced millions of organisations, public and private sector alike, to confront the vulnerabilities of their on-premises communications systems. With this also came an embrace of a different way of working, with remote governance brought to the forefront by the economic and social disturbance brought about by the pandemic. It's no surprise then, that in a recent RingCentral survey, 85% of public sector respondents say COVID-19 has changed their organisations view on flexible and remote working.
Ministers are currently weighing proposals to keep home working for the long term, which brings the question of what this looks like for local government.
What hybrid working looks like in local government
While for many, remote working involved some serious improvisation with home IT, much of which fell short of required standards, there were also clear advantages (such as money savings, flexibility and more time spent with family). So much so that it's predicted remote and flexible working will become the norm, driven in large part by the power of technology to allow employees to work anywhere.
From streamlined unified communications, to simply the correct hardware, technology has the capability to strengthen the link between local government, citizens, and small businesses, improving their collaboration and benefit sharing in the process.
How citizens can benefit from hybrid working
Local governments must consider embracing the technology now that will not only power hybrid working but also great service for communities. With 48% of citizens in the UK wanting a simpler and cleaner experience from local government digital services, the time is now.
For example, technology that enables people to work from anywhere allows an environment where all the threads in a benefit claim or social care case review are combined so callers can be directed to the correct people without delay. Case workers can also consult colleagues and other agencies seamlessly. There is a great opportunity to deliver services quicker and more efficiently, while the front line workers can also become better equipped to empower local communities.
The implications for local government
Local governments, especially those that have relied on out-dated technology for years, can harness the opportunity to drive down costs and improve working processes by embracing the hybrid workplace. It is estimated that £250+ million in central government transactions are still completed offline every year, at a cost of £14.70 per hour to the taxpayer. It's hard to ignore not only the opportunities for cost savings, but also the potential reduction in errors, and even fraud.
By embracing hybrid working, and adopting remote working tools, local authorities can look forward to savings in office rent, maintenance, heating, lighting and building services that can be redirected into improved services and greater value for money for council tax payers, Cornwall and West Berkshire Councils both have proposals under consideration to reduce office space. Some may even look at repurposing accommodation for co-working spaces to secure their position in the local community and become hubs, further reducing longer distance commuting.
Business communication technology has undoubtedly played a major role in the UK's fight against COVID-19, and it's clear to see the benefits of this for local governments when evaluating how society at large will rely on technology to help with future times of adaptation. Local governments must embrace the technologies that enable hybrid working, not just for the benefit of the government and its employees, but most importantly for citizens relying on these services. As we become used to the changes in how we interact with each other, we need to look beyond purely offices and hybrid workplaces, and develop a system that empowers connection fit for our modern age.
Gareth Johns is senior director, vertical solutions, at RingCentral UK