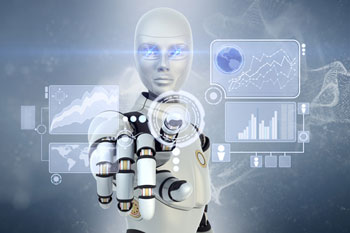 The world is moving online – and public services are no exception. From passport renewals and self-assessment to paying for parking and making Universal Credit applications, digital access is transforming lives by simplifying processes for citizens. It also reduces costs at a time when efficient use of taxpayers' money is one of the hot topics.
Yet, accessibility for all is still an issue. The 'digital revolution' has not fully democratised access to online resources. One-tenth of the UK adult population is still affected by digital exclusion, according to a report by the Office for National Statistics (ONS). A recent survey of UK council websites published by Better Connected also found that 40% of local authority gov.uk website pages are not accessible to people with disabilities. This needs to be addressed by September 2019, when an EU Directive on the accessibility of public sector websites and mobile applications comes into force.
AI is a fantastic opportunity for the public sector to address accessibility challenges. Technologies like Machine Agents and voice recognition can transform how local authorities interact with people, particularly with vulnerable groups, enabling residents that need additional support to engage with online services easily and effectively.
Understanding the accessibility challenge
The digital divide is often attributed to the lack of digital skills or the inability to afford the technology. However, it is a much more complex issue. Public services are generally much harder for people to navigate, when we take into consideration individuals who have learning difficulties, are visually impaired, are non-English speakers or have poor language skills. These particular groups need support and guidance to access online public services, or risk further social isolation.
The Journal of Health Psychology conducted research into socio-demographic factors associated with health literacy and access, and the use of the internet to seek health information. It found that individuals who most need health advice are the least likely to have access to technology that can easily provide that information.
AI personalises and improves the accessibility of public services
Local councils hold a wealth of data on their residents. When analysed, this data can offer insights on demographics, social and health conditions, as well as education, language and digital skills. AI can draw on this data to personalise every resident interaction to provide a seamless experience and fast resolution.
For example, people with a visual-impairment usually find voice interfaces easier to use, but phone interactions are not always cost-effective for public sector organisations. In this case, utilising intelligent automation and augmented information minimises the need to involve human contact centre agents – especially for routine calls. The experience is tailored using home addresses or postcodes to identify the person at the first point of contact.
Natural Language Processing (NLP) can capture data from free-flowing spoken interactions to quickly direct people to the right resources. The fact that local councils already have experience of the questions users are likely to ask, means that conversational interfaces can be trained to address targeted queries, speeding up interactions.
The need for people to read or type in data is kept to a minimum. But, even when it is essential that people use further interfaces or complete forms, AI can personalise the interaction and cater for their needs. For instance, it can recognise if an individual has a visual impairment and can ensure the online webchat offers bigger font sizes.
AI can also identify the language that a person prefers to use. This saves valuable time and effort for both the agent and the caller because the person does not have to go through different menus and options to choose their language. Multilingual Machine Agents can provide high-quality translation across numerous languages in real time through a single interface. People who speak foreign languages are offered a personalised customer experience as soon as the interaction starts.
There are exceptions where human agents are better placed to handle enquiries, with older people for example. However, Machine Agents can be used in the first instance to answer simple queries and then hand over to a human agent when needed.
AI and the road to an accessible public sector
The public sector should be harnessing the potential of AI to better serve people with different needs. AI is primed to utilise the large volume of data available to provide simple and intelligent services. This will have a significant positive impact on citizens' lives, especially if they were previously excluded due to a lack of skills or physical ability to actively engage. Public sector organisations have the opportunity to set a shining example in terms of accessibility and inclusion, showing that technology does not simply create, but can also bridge social divide.
Nathaniel Konzon is business development manager at Content Guru