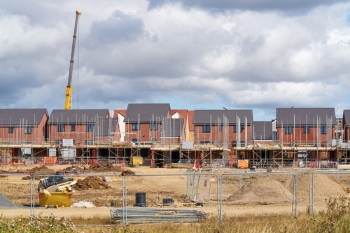 Homes England, the Government's housing and regeneration agency, has recommitted to a joint venture that is set to deliver 6,600 new homes and 2 million sq ft of innovation and commercial space over the next 10 years.
The English Cities Fund (ECF), a joint venture between Homes England, Legal & General and the national regeneration business, Muse Developments, aims to deliver housing and long-term urban regeneration projects.
Among the projects planned are a £2.5bn, 240-acre scheme that ECF has secured at Salford Crescent in partnership with Salford City Council and the University of Salford, which will bring over 3,000 homes, alongside up to 1m sq ft of space to innovate and collaborate.
ECF has also partnered with St Helens Borough Council to bring forward opportunities to regenerate areas across the borough, such as delivering a new market hall, grade-A office space, high-quality, town-centre homes, active transport infrastructure, along with extensive public realm improvements.
Together, the regeneration of these two key levelling up areas will deliver more than 4,000 of the 6,600 new homes.
Housing Minister Stuart Andrew said: 'Regenerating urban areas and transforming brownfield sites into thriving communities is integral to levelling up the country. Through the English Cities Fund, the public and private sector are working hand in hand to create high-quality new homes and jobs in areas that need them most.
'I welcome the extension of the Fund as we continue our work across Government to spread prosperity and opportunity.'
Sir Michael Lyons, chair of ECF, commented: 'Our towns and cities are the engine rooms of our economy. By bringing together the investment and regeneration skills of Homes England, Legal & General and Muse Developments, we are uniquely equipped to help in reshaping and strengthening local economies. Our ability to work at pace but with focus on long-term impact makes us an outstanding partner for ambitious communities.
'We are enthusiastic about the prospects ahead, as we harness the combined potential of public and private sectors to unlock value where it is needed to benefit local people.'