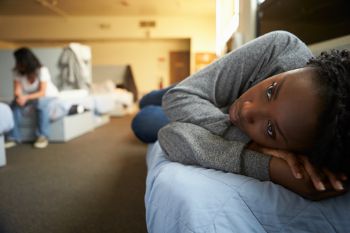 Charities have hit out after new figures revealed homelessness increased by 5% between April and June compared to the same time last year.
Figures released yesterday show a rise of 5% across England and 10% in London compared to the same time last year, making a devastating total rise of 36% since 2009/10.
30% of households became homeless due to the ending of a private tenancy, with the number rising to 38% in London.
Jon Sparkes, chief executive of Crisis said: 'Nearly a third of these people became homeless following the ending of a private tenancy. This is totally unacceptable and reflects the desperate state of our private rented sector.
'Homelessness has risen by 36% in the last five years. We cannot ignore the reality behind these numbers. Thousands of people across the country are struggling to keep a roof over their heads in a housing market that is no longer fit for purpose, while cuts to housing benefit and homelessness services have left the safety net in tatters.
'Our politicians can and must do something about this. We need housing benefit that actually covers the cost of renting, a much stronger focus on preventing homelessness, and a change in the law so that no one is forced to sleep rough. At the same time, we need decisive action to make the private rented sector more accessible and affordable, along with radical solutions to tackle the severe shortage of affordable homes.'
Gavin Smart, deputy chief executive of the Chartered Institute of Housing, said it was 'extremely worrying' to see an increase in the total number of homeless households.
He said: 'We are particularly concerned about the big jump in the number of people trapped in bed and breakfast accommodation, including more than 2,500 families with children. This type of accommodation is often very poor quality and highly unsuitable, especially for families.
'There has also been a big rise in the number of households placed outside their local authority district, which may be down to the increasing cost of housing, especially in London. The cost of housing can make it difficult for local authorities to find a home for people in the same area, but councils must do everything they can to avoid moving people away from their communities and support networks.'