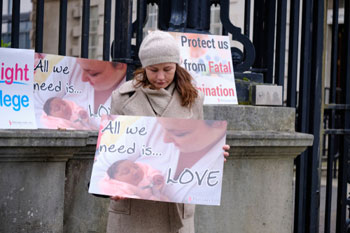 Charities and medical bodies have today written to the Home Secretary to ask for an 'urgent review' of a decision taken last year not to install buffer zones around abortion clinics.
The Home Office launched a review of anti-abortion protests in November 2017. The following year the then-Home Secretary Sajid Javid concluded that the Government would not take any action on this issue.
The review concluded that, 'Pro-life activity is reported as taking place outside a relatively small number of abortion facilities [36 out of 406]. The size and frequency of events varies from facility to facility, although daily activities with more than 10 activists are rare.'
A coalition of charities and medical bodies has, however, written to Home Secretary Priti Patel calling on her to review the Home Office's decision.
The letter, published by the British Pregnancy Advisory Service, said the consultation was based on an 'incomplete and inequitable presentation of evidence'.
It argues the experiences of women are 'consistently underplayed and misrepresented'. The consultation, according to the letter, focuses more on the question of 'embarrassment' and downplays issues such as 'intimidation', 'harassment', and 'distress'.
The letter, which is signed by more than 30 organisations and individuals, also argues that there is 'a lack of critical evaluation' of the claims of protestors who are opposed to abortion.
'Based on these shortcomings in the evidence provided to the minister, we would like to invite you as the new home secretary to ask for a full review of the evidence provided and to look again at the possibility of introducing national buffer zones to put a stop to protests at the clinic gate,' the letter reads.
'It is a measure that is supported by many MPs of all parties, more than 150 of whom have signed letters to your predecessors indicating their desire for action.
'Ultimately, this is not a question about abortion, but about the ability of women to access legal and essential medical care without fear of harassment or intimidation.'
A Home Office spokesperson said: 'This is a sensitive and complex issue, which is why we conducted an in-depth review of protests outside abortion clinics.
'The right to protest is a vital part of a democratic society, but it is completely unacceptable that anyone should feel harassed or intimidated.
'We expect the police to take a firm stance against protesters who significantly disrupt the lives of others and use the full force of the law. There are already powers in place for police to restrict harmful protest activity.'
A number of councils to date, including Ealing and Richmond, have implemented Public Space Protection Orders (PSPO) around abortion clinics to limit the activities of protesters.