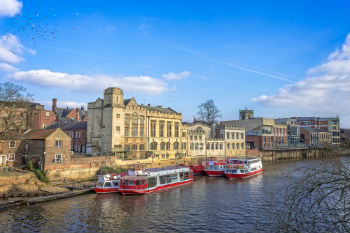 York's Guildhall, one of the city's most prestigious and historically significant buildings, could be in line for its first major restoration and redevelopment in more than 60 years.
The council will this week consider a plan to redevelop and repair the 15th century listed building which has not been renovated since extensive rebuilding works following bombing raids in 1942.
The £16.5m project would include stabilising the building by underpinning and protecting it from water damage.
Redevelopment on the site would offer high quality office space, a cafe, a new riverside restaurant and better access for local residents.
It is expected the scheme will generate income of more than £800,000 a year which will be reinvested in the city.
The scheme has attracted grant funding from West Yorkshire Combined Authority totalling £2.347m.
Ian Gillies, leader of the City of York Council, said: 'This is a significant investment, but it is the right one for this site of national importance, for York residents, and the city's economy.'