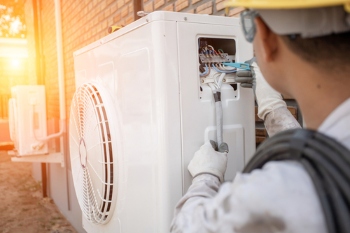 The Government's heat pump strategy leaves 'many questions unanswered', the Government's advisory Climate Change Committee (CCC) has said.
The Government's Heat and Buildings Strategy, published in October 2021, shows that the UK has taken a 'clear step towards net zero', but there are still a lot of 'uncertainties', according to the CCC.
The strategy will pay out £450m in grants to homeowners to install low-carbon heat pumps or biomass boilers as part of the effort to reduce the carbon footprint of the country's building stock. The Government projects 600,000 heat pump installations per year by 2028, up from around 35,000 last year.
In their new assessment of the strategy, the CCC warned that the Government will have to increase funding and introduce stronger standards around energy efficiency.
The assessment also said that the UK does not have 'anywhere near enough capacity' in its supply chains to install the number of heat pumps or heat networks that the UK will need.
In a blog post, the CCC's lead analyst on residential buildings, Marcus Shepheard, concluded: 'For all its detail, the Strategy leaves many questions unanswered.
'Our analysis highlights these, from uncertainties around how the market-based mechanism will operate, to the governance arrangements for energy planning. Many of the policies for heat and buildings have ambitious timelines. And the Government will need to take a careful, consultative approach. These are big, strategic decisions that will be difficult to shift away from.'