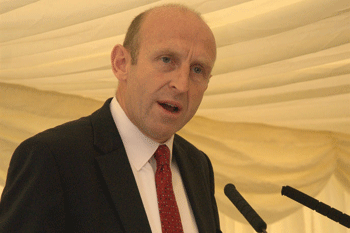 The shadow housing minister, John Healey, has accused the Government of doing a 'back-room deal' with housing associations in an attempt to extend right-to-buy to their tenants.
Housing associations have made a voluntary deal with the Government that will allow their tenants to purchase housing association homes at discounted prices. In return the associations will be compensated for the discount.
In a heated exchange on the first day back to Parliament, John Healey challenged the government accusing them of doing 'a back-room deal to sidestep legislation and proper public scrutiny in Parliament.'
He went on to question whether the Government was serious about ensuring that for every house sold another would be built.
'The minister has talked about one-for-one replacement of all homes sold—well, we have heard that before,' the shadow housing minister said. 'In 2010, the same promises were made for council homes, and it has been five years of failure—not with "one for one", but with one home built for every nine sold.'
'This policy fails the test of good social policy and the test of sound economics. It squanders a long-term asset by selling it on the cheap,' he added.
Brandon Lewis , housing minister, defended the government's deal with housing associations.
'The housing associations now want to help their tenants into home ownership,' he said, 'and I applaud them for that. I think that they have done an excellent job in working to deliver a new model that presents a new opportunity to people throughout our country.'
He went on to challenge John Healey on his point regarding replacement homes.
'In year one of the scheme, 3,054 homes were built. In the equivalent year, three years on—councils have three years in which to build—3,644 homes have been built. That is more than one extra home for every one that is sold. If councils do not build a home in time, we in the Government will take the money from them, and we will make sure that those homes are built as outlined in the scheme.'