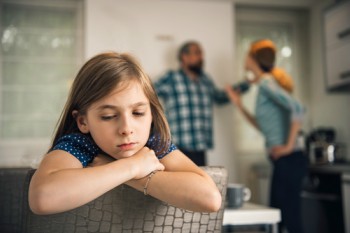 Council chiefs have called for more Government support for children's services after it was revealed half of the children referred to local authorities for 'extra help' have suffered domestic abuse.
Local children's services are under a lot of pressure and do not have the funds needed to cope. It is estimated they are facing a £2bn funding gap by 2020.
New figures from the Local Government Association (LGA) show that councils started more than 500 child protection investigations every day last year - up from 200 a decade ago.
They warned a child is being referred to children's services every 49 seconds on a daily basis.
Funding pressures are preventing local authorities from intervening early to prevent troubled domestic situations escalating into abuse, the LGA warns.
Local authority leaders called on Whitehall to provide children's services with adequate funding to help councils focus more on prevention rather than just reacting when a child suffers abuse.
They also called for an increase in the number of Independent Domestic Violence Advisers in hospital settings.
'Domestic abuse is a horrendous crime which takes place behind the curtains in our communities, and can be psychological, physical, emotional and sometimes even life-threatening,' said Cllr Simon Blackburn, chair of the LGA's Safer and Stronger Communities Board.
'It's awful to imagine the pain and hurt that perpetrators inflict on victims and to think of children witnessing or even being victims of abuse.
'With almost two million victims of domestic abuse in the last year alone, we need the Government to include early intervention and preventative measures in its comprehensive package of reforms to address domestic abuse as the best way to tackle this issue.
'The Government needs to close the funding gap facing children's services, which will reach at least £2bn by 2020.
'An urgent injection of funding is also needed to protect the services that families rely on to tackle problems or recover from previous abuse.'