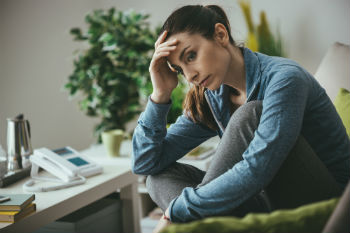 More than half of UK parents suffer from loneliness, a children's charity survey has revealed.
The Action for Children survey, commissioned to launch the charity's month-long partnership with the Jo Cox Commission on Loneliness, found 52% of parents experience loneliness.
Carried out by Survation, the poll of more than 2,000 parents also found 21% had felt lonely in the last week.
Two-thirds (68%) felt they had become 'cut off' from friends and family since having children, and a similar number (61%) worry their child is lonely some or all the time.
A separate poll of 500 children discovered 39% felt lonely in the past week.
'From a toddler who seldom meets people because of their mother's anxiety, to a young man in his twenties afraid to leave his room in a homeless hostel, we know from our services across the UK the devastating impact loneliness can have on the lives of children, young people and families,' said chief executive of Action for Children, Sir Tony Hawkhead.
'Now is the time to raise the volume on this issue and ensure much-needed research, funding and support is put in place.
'Whilst part of the solution lies with funders and policy makers, there is a role for every one of us in addressing this epidemic in our communities.'
Co-chairs of the Jo Cox Commission on Loneliness, MPs Rachel Reeves and Seema Kennedy, said: 'Our friend Jo Cox said, "Young or old, loneliness doesn't discriminate", and this survey highlights that fact.
'The worrying thing is the impact this parental loneliness then has on families and young people in particular.
'Feeling lonely for long periods can be linked to poor mental and physical health – equivalent to smoking 15 cigarettes a day. Jo recognised the need to start a national conversation about loneliness and it's essential that charities like Action for Children continue that conversation and highlight the issues.'
Jo Campion, deputy director of the National Deaf Children's Society, emphasised that the issue of loneliness was especially acute for families with disabled children.
'All too often loneliness is left untackled and unmentioned, sidestepped as a peripheral problem,' she said.
'As this vital new research so clearly demonstrates, for parents, for children, and for families, loneliness can be both devastating and pernicious.
'For families with a disabled child this is doubly true - research shows that 80% of disabled young people report feeling lonely.
'The work I do with deaf children highlights how much more all of us in society need to do to put loneliness firmly on the agenda, and at the forefront of our political thinking.'