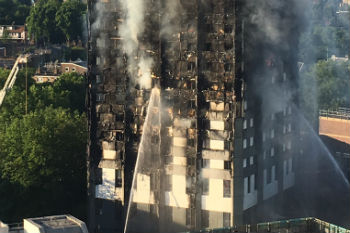 Work to develop safety standards across private and social rented housing in Scotland is to be sped up in the wake of the Grenfell Tower disaster.
A ministerial working group has held its first meeting to review building and fire safety regulatory frameworks with an initial focus on high rise domestic buildings.
But it says initial responses from local authorities suggest the type of cladding reported to have been used on Grenfell Tower has not been installed on high rise blocks in Scotland.
The Scottish Fire and Rescue Service has carried out more than 200 visits to residents in high-rise buildings since the fire in north west London which claimed the lives of at least 79 people.
The working group says it will also consider current regulations and the evidence base for sprinkler systems.
The Scottish government's cabinet secretary for communities, social security and equalities Angela Constance said it was imperative to undertake a thorough and critical review of building and fire safety regulations.
'Public safety is of paramount importance and, while the cause of the Grenfell Tower fire remains unknown at present, there can be no room for complacency.
'Communities across Scotland rightly want to know that we are taking all appropriate action and can provide them with the necessary reassurance required.'
Kensington & Chelsea RLBC and the Government have come under attack, with difficult questions about the Grenfell Tower fire remaining unanswered this week.