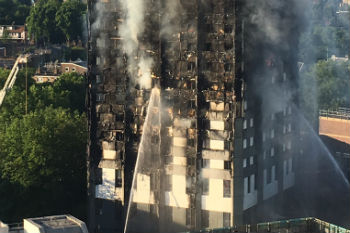 The Government has ordered urgent checks on social housing in the wake of the Grenfell Tower disaster to find out whether any external cladding is dangerous.
Councils and other social housing providers have been told that any cladding made of Aluminuum Composite Material (ACM) must be tested to see if it is safe.
Latest figures from the police are that 79 people died in the fire last week at a tower block in north west London.
The type of cladding put on the building in a recent refurbishment is thought to have been a possible factor in the rapid way the fire spread.
Communities secretary Sajid Javid said ACM cladding was not necessarily dangerous but it depended on the type.
Social housing providers have been sent technical information on how to identify ACM cladding and told they must send any samples to a free government-run testing facility.
The testing facility is also available to other landlords.
Mr Javid said: 'We are putting in place a rigorous, government funded testing process for any ACM cladding identified.
'Housing minister Alok Sharma this morning met representatives from across the housing sector including the Home Builders Federation, Local Government Association and the National Housing Federation.
'They all expressed their support for this work and gave a commitment that they would progress this with all possible haste.'
He said any landlord who was concerned could contact the department at housingchecks@communities.gsi.gov.uk for advice about cladding materials.