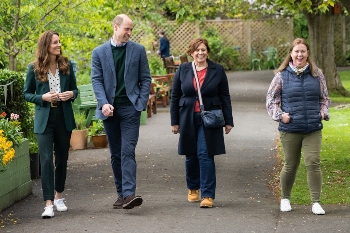 The most deprived communities tend to have the less access to green spaces, an annual report has found.
The Green Space Index, published by Fields in Trust, shows some parts of the UK have access to 50% less green space than others. There are also 2.8 million people living more than a ten-minute walk from their nearest park.
It shows that areas with the least number of accessible parks and green space tend to by those with a higher incidence of deprivation.
At the launch of the Index, attended by the Duke and Duchess of Cambridge, the City of Edinburgh Council announced it would partner with Field in Trust to protect more of its green spaces.
Edinburgh's Lord Provost, Frank Ross, said: 'I'm extremely pleased to announce that the City of Edinburgh Council will be looking to partner with Fields in Trust in protecting in perpetuity a further 25 green spaces – adding to the 34 already protected.
'This will mean that almost everyone in Edinburgh will be within a ten-minute walk of a protected green space, ensuring that for years to come citizens are guaranteed a lifetime of opportunity for activity, play, learning, recuperation and community.'
It is the first council is Scotland to take this approach and follows Liverpool's announcement in March that it would protect all 100 of its parks.