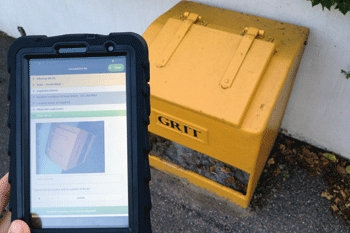 As autumn moves into winter we inevitably anticipate temperatures plummeting, the arrival of icy conditions and most likely some snow fall. Whatever the weather the public will expect to be able to get the car safely off the drive, walk to school or catch the bus.
The traditional yellow grit bin is a familiar part of the street scene. A survey by the Local Government Association carried out in autumn 2013 found that 77% of highways authorities in England and Wales use community grit bins to enable members of the public to access salt.
There is no legal duty requiring councils to provide grit bins but they undoubtedly benefit local communities that would not normally receive immediate help during severe weather or snow.
Difficult road junctions, slopes or acute bends along with points of concentrated pedestrian commuter use and isolated communities off the priority networks are given precedence when siting grit bins. This variety of locations means that keeping the bins in good condition and filled has traditionally been a time consuming job.
It is a challenge to all highways authorities to meet the public's expectations during these times of budget constraint. Accurate budget planning is a major focus for all highways authorities.
Surrey County Council is one of these authorities and looks after over 1800 grit bins across its network.
Tony Casey is highways maintenance team leader at Surrey County Council, and says that: 'As a highways authority we needed to identify more time efficient methods of tracking both grit usage and the physical condition of the bins, and demonstrate cost effectiveness.'
In summer 2013 the council took the decision to adopt a new digital software system developed by the firm KaarbonTech. The software enables Casey and his team to monitor the location, filling and usage of grit bins using Android smart devices.
Mark Entwistle, managing director of KaarbonTech, explains: 'Wireless handheld devices are used by teams to record bins in need of repair and/or filling and work packages are allocated wirelessly to teams out on the road. Carbon emissions are reduced as work can be planned more strategically resulting in fewer journeys and lower fuel costs.'
The software allows inspection criteria to be tailored to the asset e.g. grit bin or street light and data can be captured using voice, video and photo whilst GIS/GPS is used to ensure accuracy of location. Digital connectivity means that teams can share inspection details immediately and patterns of usage can be tracked and analysed ready to be incorporated into future years planning. The complete inspection history of assets across the authority's network can be downloaded within 30 seconds.
• Field users can easily see the work packages on a map and navigate to each destination.
• One click view of last known grit levels.
• Linking to other works order management and GIS systems to share the inspection details.
• System is usable offline whilst being easily updated once reconnected.
Data can be viewed by council ward, specific transport corridors or tailored to meet specific objectives.
Details of asset ownership and management agreements are also recordable; this is of particular relevance for grit bins. Unlike most highways assets the responsibility for funding, installation, maintenance and filling of grit bins can be divided amongst parish, district/borough and county councils. The creation of a historic data record is of real added value when managing assets with multiple authority involvement.
Entwistle says: 'Customers often wrongly think that they have very few data sets that could help to deliver more cost effective planning. We will work with existing GIS teams and operational managers to advise, program and clean existing data sets so they can be used to maximum benefit.'
The company offers customers the option of using the software on existing internal systems or of outsourcing maintenance of the system. Collecting of data is only half the picture – it is how that data is used that makes the difference.
The key to making effective use of asset data is to be able to view it within the context of the local landscape. As a partner organization of Ordnance Survey KaarbonTech is leading the way in combining asset management with automated referencing to geographical information that may affect vulnerability.
For example, KaarbonTech software enables the grit bins, or other assets, to be laid over an OS Mastermap and/or aerial imaging. Local authorities also use KaarbonTech software for managing gully cleaning making this viewing option particularly relevant when factoring in environmental features such as areas of flood risk.
The system has the capability to link with other geographical data. For example, visual display showing an integrated picture of winter gritting routes, elderly persons' accommodation, flood zones, un-adopted roads. Integrated knowledge of grit bin locations, location data and grit levels avoids both valuable staff time and fuel costs being wasted on unnecessary repeat visits.
The ongoing consistent recording of data enables decisions to be made about the value of retaining unused grit bins and possible redeployment to areas where usage is high. Grit bins are easily portable, compared to most highways assets, and can be moved from their original locations. If a bin is displaced by the general public the software will enable the team to either record the new location or return it to the original site. In addition to internal monitoring and decision making the information held is valuable for external audiences too.
For example, accurate data enables enquires from councillors or members of the public about the filling or condition of specific grit bins to be answered accurately and trigger action as required.
The council has calculated that using the KaarbonTech system delivered a saving of £50,000 between August and December 2013. Casey emphasised that: 'We anticipate seeing ongoing savings into winter 2014/15, whilst being confident that residents will experience improved service.'
Surrey is not alone in looking to technological innovations and this is a trend and market sector that is expected to grow as more authorities focus on targeted winter maintenance programmes. There is clear demand for asset management software than incorporates geographical information.
The traditional shovel partnered with the innovative use of KaarbonTech technology will be helping to keep people on the move this winter.