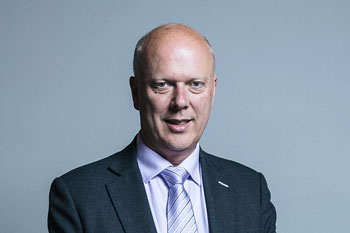 Chris Grayling has urged more local authorities to apply for funding earmarked for investment into ecologically sustainable transport projects.
Speaking today at the Northern Transport Summit in Manchester, the transport secretary will highlight the Government's record in green investment.
To date, he will say, Whitehall has overseen the investment of more than £600m in green transport across the north.
However, he will point out that millions in funding is still available to councils and businesses through a range of green schemes, such as public, home and workplace chargepoints.
According to Mr Grayling, only two local authorities in the north have bid for funding so far from the On-Street Residential Chargepoint Scheme in 2019/20.
'We're determined to make our transport greener than ever, and through the Transforming Cities Fund and investment in improving electric vehicle infrastructure, we're making great strides in achieving that across the region,' Mr Grayling will say.
'But local authorities and businesses have a key role to play if we want to accelerate the use of low-carbon transport and clean up our air.
'I urge them to take advantage of the funding available as we move together towards a zero-emission future – and to a Green Northern Powerhouse.'
Through the Transforming Cities Fund, £576m has been invested across the north-west, north-east, and Yorkshire and the Humber to support public and sustainable transport infrastructure.