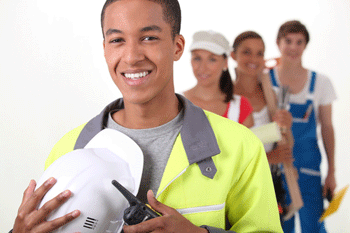 Whitehall's flagship apprenticeship policies will not fill the growing skills gap which is set to widen post-Brexit, MPs say.
A new report from the sub-committee on education, skills and the economy described the Government's Apprenticeship Levy and target of three million 'starts' by the end of the Parliament as 'blunt instruments'.
Starting next month, all public and private employers with a wage bill of more than £3m will have to contribute 0.5% in the new Apprenticeship Levy. This will fund the creation of three million new apprenticeships by the end of the decade.
However, the sub-committee warned these policies are 'unduly focused' on raising participation levels and do not focus enough on outcomes. The Government should judge apprenticeships on whether they lead to, for example, future employment, it said, and not how many 'starts' there are.
'Apprenticeships are vital if we are to close the skills gap, which could grow wider post-Brexit,' said sub-committee co-chair Neil Carmichael.
'We must train our young people for jobs that the economy needs, but the Government has failed to show how its three million target and levy will help achieve this.
'Ministers must recognise that apprenticeships are a means to an end and not an end in themselves.
'They need to place greater emphasis on outcomes, focussing on areas of the economy where training is most needed, and ensuring quantity does not trump quality.'
Iain Wright, chair of the business, energy and industrial strategy committee and co-Chair of the sub-committee on education, skills and the economy, said Whitehall's approach to apprenticeships was 'inherently contradictory'.
'The Government's flagship apprenticeships policies positively focus on raising participation but are inherently contradictory,' he said.
'Ministers have a centrally-dictated, top-down three million target, welcome though that focus is, at the same time as insisting that this approach will be bottom-up and address the skills requirements of individual firms, sectors and regional economies.
'These requirements will often be very different and the Government should target those sectors of the economy and regions of the country where skills shortages are particularly acute.'
Mr Wright also added: 'too much training remains sub-standard and detrimental to the career of apprentices and, more widely, the performance of our economy.'
Local authorities also warned last year the new levy will cost councils millions. The Local Government Association (LGA) calculated paying the levy will cost councils £207m a year, and less than 10% of town halls will be exempt.