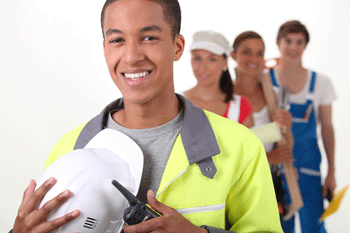 Whitehall's push to increase the amount of apprenticeships will cost councils hundreds of millions of pounds, putting extra pressure on already squeezed budgets, town hall leaders say.
After April 2017, all public and private employers with a wage bill of more than £3m will have to contribute 0.5% in a new Apprenticeship Levy. This will fund the creation of three million new apprenticeships by the end of the decade.
It will, however, place a significant financial burden on local authorities. The Local Government Association (LGA) calculates paying the Levy will cost councils £207m a year, and less than 10% of town halls will be exempt.
Similarly, the Government wants public sector employers to ensure each year 2.3% of their workforce is made up of apprentices.
This means, the LGA argues, councils will have to make the biggest contribution of any part of the public sector by creating 33,000 new apprenticeships each year. This would add an extra £400m to their wage bill.
Council leaders are calling on the Government to exempt them from this new apprenticeship target because-on top of the extra cost--it would force them to create positions when they have already reduced staff numbers by 40% since 2010.
They also request money raised from the Apprenticeship Levy be controlled at the local level in order to allow each area to spend the money on creating skilled apprentices that target plugging local skills gaps and meet employers' needs.
Cllr Nick Forbes, LGA vice chair, said: 'Councils support the Government's ambition to create three million apprenticeships. Good apprenticeships can give people the experience, skills and understanding that can often lead straight into a full-time job.'
However, he was critical of the Government's plans to create these apprenticeships.
'Paying the Apprenticeship Levy and meeting national apprenticeship targets each year will add further financial pressure onto already stretched local services,' he warned.
Visit The MJ (£) to find out how councils are getting creative with apprenticeship placements.