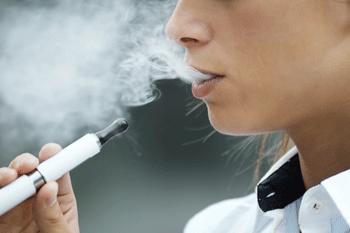 The Government should relax regulations surrounding e-cigarettes and reconsider their use in public places, MPs have urged today.
A new report from the Science and Technology Committee concludes that the Government is 'missing an opportunity' with e-cigarettes as they are an estimated 95% less harmful than conventional cigarettes.
It calls for regulations to be relaxed around their licensing, prescribing and advertising of their health benefits, and for their use in public places to be reviewed.
It also wants e-cigarettes to have lower levels of taxation to provide a financial incentive for people to use them as an aid to stopping smoking.
Norman Lamb, chair of the committee, said: 'E-cigarettes are less harmful than conventional cigarettes, but current policy and regulations do not sufficiently reflect this and businesses, transport providers and public places should stop viewing conventional and e-cigarettes as one and the same. There is no public health rationale for doing so.
'Concerns that e-cigarettes could be a gateway to conventional smoking, including for young non-smokers, have not materialised. If used correctly, e-cigarettes could be a key weapon in the NHS's stop smoking arsenal.'
The report also found the number of smokers with mental health conditions remain 'stubbornly high' so recommends that mental health trusts and prisons review their ban on e-cigarettes.