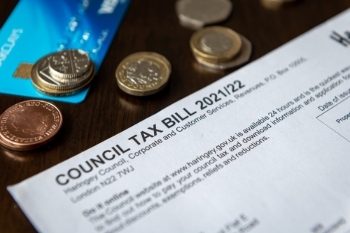 The Government needs to 'get a grip' on the council tax rebate scheme, the chair of the levelling up select committee has said.
Writing to the secretary of state Michael Gove, chair of the levelling up, housing and communities (LUHC) select committee Clive Betts has hit out at the scheme that has been beset with difficulties.
In the latest in a string of letters to Mr Gove, the committee chair has pressed the levelling up secretary to explain how the council tax rebate will be administered.
He claimed the Government's shift to one-off payments to help struggling households was in danger of creating 'a parallel, discretionary, locally-operated welfare benefit system outside the conventional one'.
The letter said: 'There are suggestions the Chancellor is looking again at a council tax rebate later this year to help households with increasing energy bills. 'The reality is the Chancellor's first effort at support through a council tax rebate is already proving to be complex and there are a variety of issues which risk people being unable to access this help quickly and smoothly.
'The Government needs to get a grip on the operation of the council tax rebate and give clear guidance to councils so that this rebate is delivered to households reliably and effectively.'
This, he said, was even more crucial if the Government planned to extend the scheme.
His letter comes after the Office for Budget responsibility warned around 1.3 million families could miss out on the rebate as they did not pay council tax by direct debit.