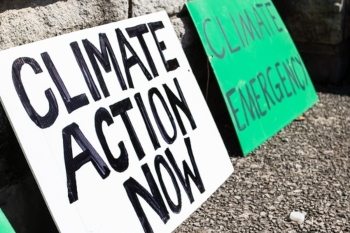 MPs have called for the Government to 'immediately' begin working with councils on setting out their role in reducing carbon emissions.
A net zero framework is needed to spell out the responsibilities of local and central government, a according to a report published today by the Housing, Communities and Local Government Committee.
The report also raises concern at the lack of a 'clear commitment' to increasing long-term funding specifically for climate action in last week's net zero strategy.
Without funding and a framework, the Government will struggle to meet its target of achieving net zero emissions by 2050, the report concludes.
Committee chair Clive Betts said: 'The Government needs to work with local government on producing a delivery framework to achieve net zero, clearly setting out the relative roles and responsibilities of both local and central government.
'To meet the scale of the challenge and enable local councils to make long-term decisions on behalf of their communities, the Government should also come forward with a long-term funding plan for local authority climate action.'
The committee also said net zero considerations must be embedded in the planning system.
The report recommends net zero is given a 'central role' in the National Planning Policy Framework (NPPF) and that progress on implementing the Future Homes Standard, which would reduce carbon emissions in housing by 75% to 80% from 2025, is accelerated.
A government spokesperson said: 'We welcome this report. Councils have an integral part to play in delivering net zero, and we will continue to work very closely with local partners to meet our climate change commitments.
'Significant funding is already available to councils for them to take local action, including £1.2billion in dedicated funds, alongside clear expectations on how central and local government interact in the delivery of net zero.'