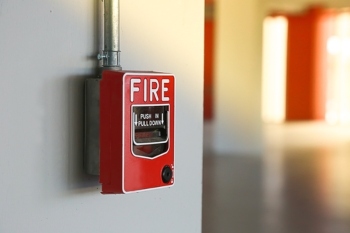 Residents living in high-rise buildings with unsafe cladding can now get financial support from the Government to help them buy fire alarms.
The £30m relief fund will protect leaseholders from the high costs of 'waking watches', where a building is continually patrolled in case of a fire, by providing funds for fire alarms.
'We know many people are anxious about the costs of waking watches, which was always only intended as an interim measure while historic safety issues were fixed,' said housing secretary Robert Jenrick.
'This fund will relieve the financial pressure on residents in these buildings and ensure they will be kept safe. I encourage those who are eligible not to delay and start their applications swiftly so we can distribute the funds as quickly as possible.'
The fund will be distributed through councils, regional authorities and directly through the Ministry of Housing Communities and Local Government, depending on the location of the building.
Most of the funding – £22m – will be targeted at the cities with the most high-rise buildings with unsafe cladding, including Manchester, Birmingham and Leeds.
Labour has warned that up to 11 million people are still at risk from life changing cladding costs and unsellable properties. It is calling on the Government to set up a new National Cladding Taskforce to provide up-front funding to remove unsafe cladding and carry out other urgent fire safety work.
Party leader Keir Starmer said: 'I urge Conservative MPs to vote with us in Parliament today and put their constituents' safety and security first. And I urge the Government to get a grip of this crisis through a national taskforce and by implementing Labour's six demands.'