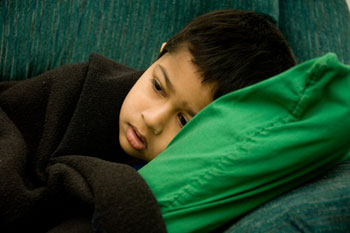 Campaigners have warned that the economy is not 'working for everyone' as the latest statistics show that child poverty in working families is on the rise.
According to the Government's annual poverty statistics, the percentage of poor children in working families has increased from 67% to 70%.
They also show that 53% of poor children—or more than two million—are aged under five, and 200,000 more children are in absolute poverty.
The number of children in poverty currently stands at 4.1 million after housing costs. This amounts to nearly a third (30%) of UK children below the poverty line.
The risk of poverty for children in families with three or more children is up from 32% in 2012 to 43% after housing costs, the statistics show.
Research by the Child Poverty Action Group has also found that the four year freeze on children's benefits alone will lead to average loses of £240 per year for families with children and will result in 100,000 more children in poverty by 2023-24.
Commenting on today's annual poverty statistics, chief executive of Child Poverty Action Group Alison Garnham said: 'Today's poverty figures make grim reading with more than 4.1 million children still in poverty and a jump in the proportion of poor children in working families.
'Despite high employment, today's figures reveal that 70% of children living under the poverty line have at least one parent in work. That is not an economy that is working for everyone.'
Responding to the figures, the director of policy and campaigns at Action for Children, Imran Hussain, said: 'Showing an increase in relative child poverty and a rare rise in absolute child poverty, today's figures make for grim reading.
'Yet what's more alarming is the Government's complete lack of recognition or urgency that it's failing so badly to combat this growing crisis.'
'The chancellor must urgently act to close the funding gap for children's services in this year's Spending Review and ensure he no longer allows inflation to eat into the benefits families rely on for their basic living needs,' he added.