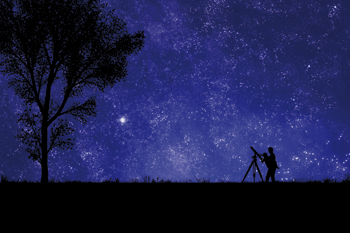 The ability to stargaze might not seem like a key deliverable to the community, yet it has prompted research that impacts on carbon management.
Light pollution is already well understood. Views of the night sky can be obscured by the impact of artificial lighting, while some believe floodlighting or street lighting can also result in localised nuisance. The CPRE reported on this in April 2014 as part of the Dark Skies initiative.
Artificial lighting can greatly impact on all types of light pollution, especially in built up areas or in rural places with clusters of light, such as car parks or retail centres. The CPRE have now also reported on this in their Shedding Lights document.
As previously reported in LGN, many local authorities – such as Edinburgh City Council – have begun to use more energy efficient street lighting as well as dimming or switching off strategies during the night.
Emma Marrington, a CPRE's Dark Skies campaigner, says: 'We urge councils to do more to control lighting in their areas. We often hear concerns that changing street lighting can impact on public safety but our research revealed no evidence to support this. We are not advocating changes where they're not appropriate, but why shine bright lights on residential streets, quiet roads and open countryside throughout the night when it's not needed?'
All local authorities want to save money but community perception of dark streets – as well as dark skies – can differ. For example, in 2013, when Essex CC undertook a consultation concerning switching off street lighting during the night, a number of public safety concerns were expressed.
Technological solutions – such as white lightning – can also have budgetary implications. Yet the upward curve on energy costs as well as increased expectations on carbon management generally is starting to make these decisions move towards the 'no brainer' category.
The CPRE sent to a survey to all English councils in January and February 2014. There was a 24% response rate with 83 councils revealing how they deal with lighting in their areas, both in planning and through street light dimming and part-night lighting schemes. The evidence, the CPRE suggests, shows that councils who adjust street lighting in their areas can make significant financial and carbon savings and, in turn, reduce light pollution.
The CPRE also raises questions, such as whether all local authorities adequately respond to community complaints about lighting or if the National Planning Practice Guidance (NPPG) on light pollution is fully taken into account. These are points each individual local authority could review internally.
Light pollution is more than a stargazing concern. It should prompt many questions about carbon management and the CPRE reports provide a starting point for those local authorities who haven't yet looked at their street lighting policies.