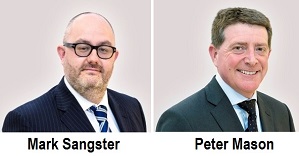 Global insurance broker, risk management services and consulting firm Gallagher has further invested in its specialist UK-wide public sector and education capabilities to best meet client need in a rapidly evolving market, through diversification of its service and solution offering, and through internal promotions.
Peter Mason, while remaining Executive Director, Public Sector & Education, will now lead a major new strategic initiative to devise and develop a range of risk financing solutions that best match the risk appetite of clients with options from conventional and emerging insurance markets to complement the traditional programme structure many clients value. This will engender a more collaborative approach to risk financing in the sector which in turn will result in greater efficiency savings for the sector being the priority, in conjunction with maintaining coverage levels
Joining the PS&E leadership team is Mark Sangster — promoted to Executive Director, Public Sector & Education (North), reflecting his success as Client Director, based in Manchester.
Mark brings 20 years of insurance experience to the role, having worked for Gallagher for the past 16. He manages clients from all parts of the public sector and holds responsibility for some of Gallagher's largest and most complex public sector and higher education clients.
In addition to these management changes, Guy Stonier has joined the PS&E team as a Client Director having previously been Deputy Head of Office in Gallagher's Sheffield branch. Guy brings 30 years of experience in insurance and an in-depth knowledge across the commercial and public sector, including significant experience with education clients ranging from schools and academies to universities.
Tim Devine, Managing Director of UK Public Sector & Education, said: "With the continued pressure on public sector funding, greater risk retention by clients and the emergence of a number of mutual risk-pooling facilities backed by central government, significant change is being driven through the public sector and education market.
"Peter's new role will see him lead the development of new and innovative solutions that deliver greater efficiency through collaboration and best meet the shifting needs of our clients. His strong leadership credentials, project management expertise, risk financing experience and procurement knowledge, mean he is ideally placed to spearhead this separate but critical work stream.
"We're also delighted to appoint Mark to the role of Executive Director and welcome him to the PS&E leadership team, demonstrating our desire to always promote from our internal pool of talent where possible."
Mark Sangster added of Guy Stonier's appointment: "Our growth strategy within PS&E has always been to ensure the widest possible geographic coverage for clients, supporting them as a global broker through local service. Guy's promotion to Client Director in the North reinforces that strategy. His knowledge of commercial businesses will also be a great asset to the team due to the commercialisation agenda within most public-funded bodies, driven by increased pressure on funding over recent years. We are delighted he has chosen to join our specialist team."
Visit www.ajg.com/uk to find out more.