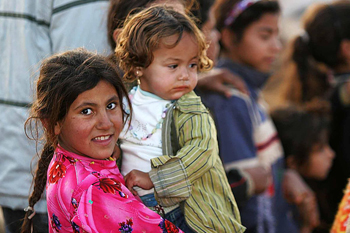 The Government has pledged to consider continuing funding for refugees beyond the one year limit already announced.
In a statement to the House of Commons home secretary Theresa May said talks will take place with the Local Government Association and others as part of the forthcoming spending review.
The LGA responded by repeating its call for a commitment to funding to pay the cost of resettling refugees.
Cllr David Simmonds, chairman of the LGA task group on asylum, migration and refugees, said it was important to ensure that vulnerable children, families and adults had access to public services and 'would not be not be seen as a burden by the communities who will be welcoming them.'
He said councils would work closely with the Government to co-ordinate offers of help from councils and draw up a 'coherent and sustainable plan'.
'The urgent focus for councils now will be how to best manage the impending arrival of people so they settle in areas where they can be found somewhere suitable to live, have access to jobs and healthcare and where their children can find a school place.'
The Government has published a list of charities and non-government organisations for people to contact if they want to help with the refugees and asylum seekers who are expected to start arriving soon. It says they should contact their local authority if they have a property to offer.
Mrs May told the Commons: 'It is important to ensure that when people arrive here they know they are welcome in the UK.'
She said newly-appointed minister for refugees Richard Harrington would be responsible for co-ordinating and delivering the resettlement programme.
One of his first tasks was to host a meeting of non-governmental organisations to agree 'how best to harness the strong desire expressed by the public, and a range of organisations, to welcome these refugees to the UK.'
Mrs May said: 'I am sure that everybody will agree that we need to ensure that it is not a question of just taking people from Syria and putting them somewhere in the UK - it is about making sure that their needs have been identified and that they are given the right support when they arrive.'