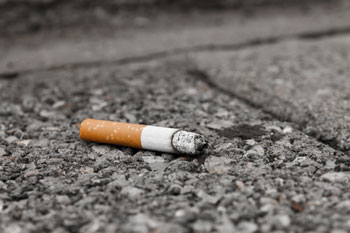 Funding shortages for local tobacco control could put the 2030 smokefree target at risk, campaigners have warned today.
A new survey by Action on Smoking and Health (ASH) and Cancer Research UK has found a third of local authorities no longer provide a specialist stop smoking service.
It also found in a quarter (23%) of local authorities, GPs did not prescribe any Nicotine Replacement Therapy to help smokers quit. Just 11% of local authorities offer smokers free e-cigarette starter packs through their stop smoking service.
Deborah Arnott, chief executive of ASH, said: 'Local authorities have a key role to play in achieving the Government's smokefree 2030 ambition – but they cannot do so without the right financial support.
'To fund the support smokers need to quit, the Government should impose a 'polluter pays' charge on the tobacco industry which could raise at least £265m annually. This could adequately fund stop smoking services, local authority enforcement against the illicit tobacco trade and underage sales, and adequately funded public health campaigns to reduce smoking.'
Cllr Ian Hudspeth, chairman of the Local Government Association's Community Wellbeing Board, said: 'Councils can help the Government achieve its ambition of eliminating smoking by 2030 with adequate long-term funding for their public health services.
'Smoking rates continue to fall, which is good news, but as this report highlights there needs to be greater help for those most in need of support, including routine and manual workers or people with mental health conditions.'