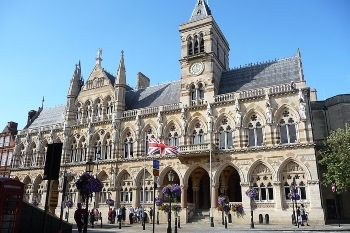 It's funny how quickly technology becomes outdated. If you think back to the beginning of the Millennium, pagers were still considered cutting edge, fax machines were still firmly in use – we couldn't even comprehend some of the devices and software available to us now. It'd be another seven years before Facebook appeared. As impressive as a lot of new platforms look, I've always felt that the best type of software, will always be considered by its core users as simple, useful, reliable, and above all else will stand the test of time with just a few tweaks, changes and a little customisation – think of the Google search engine!
Like many councils, as a result of the local government reorganisation, my team has recently moved into a new unitary. On April 1st, 2021, Daventry District, Northampton Borough, South Northants and half of the County Council became West Northamptonshire Council.
For our development management team, there have been some challenges - ones that often come with trying to get several councils working to start working as one council. Especially when they use completely different platforms for different functions, such as processing planning applications, monitoring section 106 agreements and dealing with planning enforcement.
This transition and working through these challenges, has made me reflect on my role and why I was brought into South Northamptonshire Council, in the beginning. I joined in 2001 to implement a new modern planning system, replacing a very old, low tech, green screen software.
Luckily South Northamptonshire Council was forward thinking. It knew that it wanted to digitise its planning department and that in order to do this, it needed a piece of reliable software that could help it realise its ambitions. The project would migrate thousands of data items from mapping, scanned documents and old system records to make it much easier to find and create a system that worked well for everyone.
Choosing the right supplier
The council chose DEF Software just before I joined, largely because the supplier was offering everything a planning software would normally have plus a customised, flexible, bespoke system.
This would give the council all the core functionality to cover the regulations but also the flexibility to add new fields and functions specific to our site to get the very best from the system and assist planners use it better helping them 'project manage' each application better so everything was done at the right time to get the right result.
Having worked with other systems before this role, I knew normally a new implementation of software required large amounts of tedious training sessions and operating manuals. Our new supplier offered this straight away and two hours later I was almost fully trained on most of the system and ready to train others in the team. This was the first time I realised that this thoughtfully put together solution was intuitive and easy to use and that software didn't have to be complex to work well.
The first fully flexible planning system
Back then there was no planning register, you couldn't quickly look up planning applications in your area. There wasn't online mapping in the same way there is now and there weren't forms you could fill out on the website.
A little after the implementation, in 2004, the Peter Pendleton review of online planning, set out 21 standards relating to various actions and activities being available online through the council's website; we also saw the arrival of the Planning Portal and the need to load electronic apps into your planning system. Pendleton brought about a lot of new online functionality to the sector that is now considered essential and basic.
The new software brought with it new proactive suppliers, eager to develop the system and make it more useful to users, and to the public via an online presence. Back then we didn't know the real potential of online planning.
The early adoption of a real time planning register with linked document management was really very unusual in terms of it being used widely within local government. We had up to minute application status to help keep people informed and avoid the need for the public to contact planning officers for updates in turn allowing them focus on dealing with getting applications processed. Online forms later populated the registers and back office software directly, removing the need to rekey data manually.
The developers consistently tweaked the system to make improvements. These were either directly by them, or as a result of discussion with us and the planners – they were always willing to listen and open to ideas and because of the way they work we didn't have to wait ages– useful changes were made and delivered within weeks.
Evolution is the key to success
Fast forward 20 years, and this very same ethos of listening to customers, making continuous and timely improvements and keeping things initiative and easy to use is what has seen us through recent challenges.
There has obviously been a lot of evolution of the system since 2001, a huge part of that is down to DEF Software's user groups and collaborative learning from other local authorities using the MasterGov suite. There is a real open dialogue about how we can all improve our systems and a sense of pride when a steering group of council representatives helps get a new function live.
Now we've arrived in the unitary, some of the councils are using the same system, which is helpful as we're having to share various aspects of our work. One of the councils is sharing the Street Naming and Number module and the Section 106 Monitoring module in the unitary and another is now providing support to our building regulations team, which was made much easier, due to the fact we could simply grant them access to our building regs system. Having that flexibility with our system has meant we can change a process really quickly if needed.
Planning systems of the future
It's hard to imagine what planning systems will look like in another 20 years, but when it comes to IT, real change comes from workplace culture and the idea that your supplier will really listen to you when you request changes; Better still, empathise and suggest even better and more useful solutions to your problems.
When new staff come into the council, we actively encourage them to suggest improvements to the system as we know our provider will listen. This is a new experience for some users who have experienced systems and suppliers that weren't that good - we can confidently say 'both our supplier and system are really good, and they have been for last 20 years.'
Tim Bartlett is business systems analyst at West Northamptonshire Council
Photo: Immanuel Giel