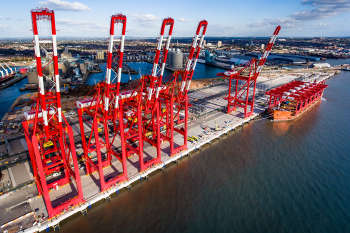 Government plans to open up to 10 'Freeports' in the UK have been met with scepticism, despite claims that they would 'unlock a new era of jobs and prosperity'.
A consultation document suggests the new zones could be open for business in 2021, with the locations announced by the end of this year. Once the 10-week consultation is completed, the Government will invite sea, air and rail ports to bid for Freeport status on a competitive basis.
Officials said freeports, which offer tax breaks to exporters, 'will also offer an exciting opportunity for cutting-edge customs, transport and green technologies to be trialled in controlled environments, before being adopted more widely in relevant sectors of the economy'.
Minister for the Northern Powerhouse, Jake Berry, said: 'People across the Northern Powerhouse can look forward to a new era of jobs and prosperity unlocked by this new generation of Freeports.
'They will unleash the potential of communities both by boosting trade with our friends across the globe and transforming surrounding areas into hotbeds of innovation where businesses will grow and create new well-paid jobs.'
Henri Murison, director of the Northern Powerhouse Partnership said: 'We have a number of international gateways across the Northern Powerhouse, from the Humber to the Mersey, the River Tees to Barrow, that could benefit from incentivised status to attract industry.'
But he added: 'The detail of these proposals will need to guarantee significant additional growth, in particular in trade, to justify their designation.'
This article first appeared on Transport Network