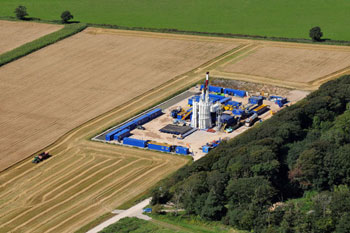 Fracking should go ahead at a site in Lancashire, planning officers have recommended - in a decision that could 'set a precedent' for the UK.
Energy firm Cuadrilla has submitted planning applications to explore for shale gas at two sites in the northwestern county, involving drilling, hydraulically fracking, testing gas flows and the construction of up to four vertical bore holes at each site. A long-delayed decision by Lancashire County Council on whether to grant planning permission will be made by councillors at a meeting next week.
While the town hall's planning officer has recommended an application for Preston New Road should be granted approval, they advised refusal for the Roseacre Wood pitch due to fears traffic generated from the site 'would result in an unacceptable impact on the rural highway network and on existing road users'.
Officers in January recommended that the applications be rejected over fears of congestion. However a last minute bid by Cuadrilla saw the authority deferring the decision until April, yet this was again delayed so officers could consider more information.
A spokesperson for Cuadrilla said the firm had submitted new plans on mitigating night time noise yet was 'disappointed' planning officers did not believe alternative traffic routes made the Roseacre Wood site feasible.
'The alternative route suggested met with all necessary guidelines in our view,' the spokesperson added. 'We are disappointed that officers do not support this in their negative recommendation today, however we are pleased to note that as with Preston New Road, they are satisfied with all other aspects of the Roseacre Wood planning applications.
'We note that, as in January, the Planning Officer's report is satisfied with all other aspects of the planning applications, in particular with regard to drilling and fracking.'
However Friends of the Earth said the county risked 'setting a precedent' for 'all over the UK' if it granted Cuadrilla permission to operate.
'The council must now listen to the tens of thousands of people who have objected to fracking at both sites, and the strong evidence put before them, and reject both of Cuadrilla's proposals to frack,' Friends of the Earth campaigner Furqan Naeem told the BBC.
Despite MPs on the environmental audit committee highlighting 'huge uncertainties' about the hazards fracking poses to health, biodiversity, and groundwater and air quality, prime minister David Cameron has declared the Government is 'going all out for shale'.
Chief executive of the North & Western Lancashire Chambers of Commerce, Babs Murphy, said: 'Natural gas from Lancashire shale represents an opportunity to boost skilled employment and stimulate our local economy – providing a sound basis for long-term economic growth in the North West.'