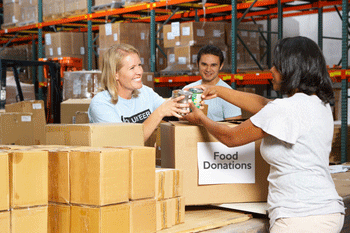 Record foodbank use levels are the result of benefit delays and changes, The Trussell Trust has found.
The latest figures from the charity show foodbank use remains at record levels - rising 2% on last year's figures. In 2015/16, 1,109,309 three day emergency food supplies were provided to people in crisis, compared to 1,084,604 in 2014/15. 415,866 went to children.
In partnership with the University of Hull, the Trust has developed a new tool that maps foodbank data against census data. It allows for a clearer breakdown of the main drivers of food poverty
Trussell found benefit delays and changes, including to Jobseeker's Allowance (JSA), Employment Support Allowance (ESA) and Personal Independence Payments (PIP), remain the biggest causes of foodbank use, accounting for 42% of all referrals (28% benefit delay; 14% changes), a slight reduction on last year's 44%.
In some areas foodbanks report increased referrals due to delays and arrears in Universal Credit payments.
Foodbank users are also driven there by low income. This has risen as a referral cause from 22% to 23%.
David McAuley, chief executive of The Trussell Trust says: 'Today's figures on national foodbank use prove that the numbers of people hitting a crisis where they cannot afford to buy food are still far too high. One million three day food supplies given out by our foodbanks every year is one million too many. This must not become the new normal.
'Reducing UK hunger will require a collective effort from the voluntary sector, Government, DWP, businesses and the public, and The Trussell Trust is keen to work with all these groups to find solutions that stop so many people needing foodbanks in future.'