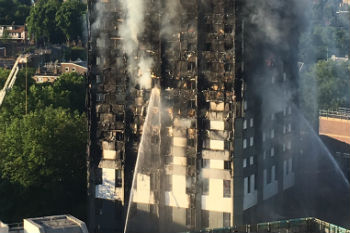 The Government has today published the terms of reference for the independent review of building regulations and fire safety following the Grenfell disaster.
The review, which will be lead by Dame Judith Hackitt, a qualified engineer with a strong regulatory background, will assess the effectiveness of current building and fire safety regulations and related compliance and enforcement issues.
It will be specifically focused on multi-occupancy high rise residential buildings and whether the Government's large-scale cladding system testing programme identified any potential systemic failures.
'We must learn the lessons of the Grenfell Tower tragedy and ensure that a fire like this cannot happen again,' said communities Secretary Sajid Javid.
'Following the fire, I commissioned a series of large-scale tests, which have raised the question of whether there have been potential systemic failures within the building regulatory and fire safety system.
'This independent review led by Dame Judith Hackitt will address any potential failures and recommend how we ensure the whole building regulations and fire safety system is robust.'
Dame Hackitt said: 'I look forward to working with experts from across different sectors to take an urgent, fresh and comprehensive examination of the regulatory system and related compliance and enforcement issues.
'It's right that we consider the whole system together and ensure that everything possible is done to improve the safety of buildings.
'I will also be speaking to residents of multi occupancy residential buildings who must have a voice about these important issues that affect their safety.'
Responding to the announcement, Wera Hobhouse MP, Liberal Democrat communities and local government spokesperson, commented: 'This review of building regulations is long overdue.
'The current fire safety rules have been shown to be utterly outdated and inadequate, leading to tragic consequences.
'The fact highly flammable material was approved for use on high-rise blocks across the country shows just how flawed the current system is.
'These loopholes must be fixed as soon as possible to prevent further tragedies like Grenfell from taking place.
'There must also be clear accountability and tough sanctions for those who break the rules.'