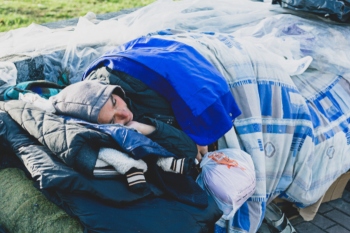 Councils have called for a cross-departmental government plan to tackle homelessness after figures showed 688 homeless people died in England and Wales last year.
The figures, published by the Office for National Statistics (ONS), show that while the number of homeless deaths fell by 11.6% in 2020 compared to 2019, it is still 42.7% higher than when records began in 2013.
The ONS also warned the Everyone In scheme made it difficult to identify all deaths so the figures published today may underestimate the true number of homeless deaths.
It found the death rate has more than doubled in three regions since 2013 - the North West, Yorkshire and The Humber, and the East Midlands.
In response, the Local Government Association (LGA) urged the Government to build on the success of Everyone In.
Cllr David Renard, Local Government Association housing spokesperson, said: 'For that to happen, we need a cross-departmental government plan to tackle homelessness with long-term investment in prevention and services to support economically vulnerable people and households to prevent homelessness from happening in the first place.
'Councils also need to be able to deliver a house-building programme of 100,000 social homes for rent each year to tackle our severe social housing shortage.'
The figures show the average age at death for homeless people was 30 years lower than the average death of the general population.
Polly Neate, chief executive of Shelter, said: 'As we head into another hard winter with the virus still circulating, we cannot leave anyone out in the cold. Our services are already being approached by people in need of emergency accommodation, who are being turned away by councils and often told they have no rights.
'The Government must step in again to keep people safe from COVID and the ravages of homelessness this winter. Councils need clear guidance to ensure everyone at risk of sleeping rough is offered emergency accommodation, and the funding to provide it.'
A Department for Levelling Up, Housing and Communities spokesperson said: 'Every death on our streets is one too many which is why we remain committed to ending rough sleeping altogether. "
'The Everyone In scheme launched during the pandemic has helped 37,000 vulnerable people, and we are also providing more £2bn over the next three years to tackle homelessness.'