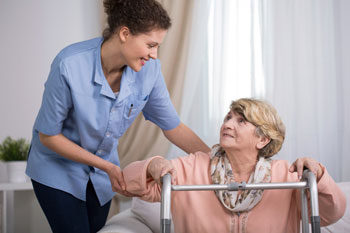 Immigration rules should be relaxed for care workers 'immediately', according to experts appointed by the Government.
The Migration Advisory Committee (MAC) said they should be eligible for special visas and put on the shortage occupation list.
Although the committee is due to conclude its report on the impact of ending of freedom of movement on the sector in April, it has made the recommendation in advance as it believes the issue 'needs to be addressed urgently'.
A Government spokesperson said it 'will consider the conclusions carefully'.
The MAC found the supply of workers has not been able to match the increase in demand for adult social care, with a vacancy rate of 11% in October - a situation set to worsen with the onset of burnout and the vaccine mandate.
Its report concluded: 'Whilst we do not believe that immigration policy can solve all, or most, of the workforce problems in social care, such a policy can potentially help to alleviate the difficulties, at least in the short term.'
Nevertheless, the MAC added 'the underlying cause of these workforce difficulties is due to the underfunding of the adult social care sector' and that 'improvements in pay and conditions is ultimately the key to addressing these workforce difficulties'.
The MAC also acknowledged the limitations of the change, with some providers not registered as sponsors and high costs of the immigration for some small and medium enterprises.
Responding to the recommendation, Care England CEO Professor Martin Green said it 'cannot be enacted fast enough', but the Local Government Association claimed it 'would only be another short-term fix'.
Chairman of the LGA's community wellbeing board, Cllr David Fothergill, demanded 'a long-term solution for the social care workforce which crucially addresses the issue of pay'.
Migration minister Kevin Foster said: 'The shortage occupation list includes senior care workers and last year we introduced the Health and Care Visa to support the sector to recruit the staff it needs – but businesses need to make long-term investments in the UK domestic workforce, including offering hard working care workers the rewarding packages they deserve.'